But wait, there's more! Don't run away just yet! I put a fun present at the end of the page!
Epilogue
I purchased 58 prints at auction.
So far I have addressed 54 of them. Some of them I perfectly matched. Other were tricky as there was not much left or it had been vastly changed (or in the case of Friars Carse completely rebuilt). For 54 of these I was verifiably in the right place. So let's talk about the 4 questionable ones.
1) Cockburn Path Tower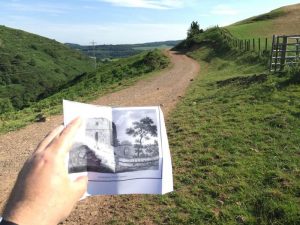 I already went over this one. Back on day 19 I missed it. I drove BY it! This isn't guesswork –
Stravaiging Around Scotland
has pictures and GPS coordinates for it. I just missed it. Boo hoo.
This really is the one that got away!
2) The Collegiate Church at Hamilton
I had high hopes for this one at first because I found this color watercolor of it from 1750.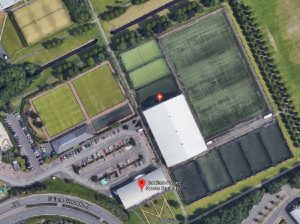 3) St. Roque's Chapel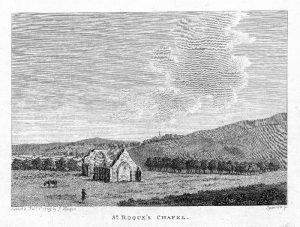 CANMORE – The National Record of the Historic Environment entry for St. Roque's Chapel
lists it as "No Longer Extant" which is good enough for me! It also says "The structure was derelict in 1789 and finally demolished in 1791." Since there weren't any pictures on their site (that I could access) I wanted to make sure that my St. Roque's was the one that was in/near Edinburgh. I found this engraving of places around Edinburgh that listed a St. Roque's chapel and the picture in the lower left is clearly the same place. So I feel safe to say it is no longer standing.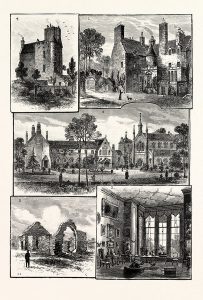 Astley Ainslie Hospital is on that site and from Google Street View you can see a sign for St. Roque's.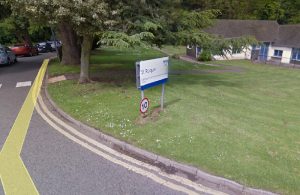 And the GPS Coordinates and Street View shows that there is nothing there!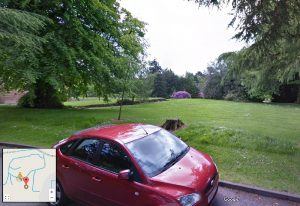 So I didn't go.
4) North Berwick Monastery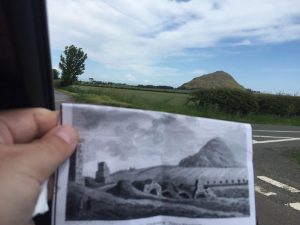 Day 19! Again day 19! As you recall from the entry for Day 19, I originally was only able to verify one of my pictures of North Berwick Nunnery. But after careful sleuthing with Google Maps and Google Earth I was able to verify that the second print of North Berwick Nunnery is the same place. Not only is it the same place but I took a picture of it. This was all covered on Day 19.
But this third one. North Berwick Monastery eluded me. I drove around North Berwick until I was able to get a nice approximation of North Berwick Law (the hill in the backdrop) and called it a day. I figured that I basically had the same view without the ruin. What had been bothering me though was seeing no record of a North Berwick Monastery ANYWHERE. So I dug a little more.
The Monastery of North Berwick

It is impossible to state definitely the date of the erection of this building, locally known as "The Nunnery," and, in the recent days, "The Abbey." The correct name is "The Monastery," which is that always used in deed granted the Prioress and on the Common Seal of the Convent.
So according to this – it really is the same place! Even better, the Transactions has of of my North Berwick Nunnery prints labeled as North Berwick Monastery. But even more astounding they cite the book that the print was taken from. Now, I did a lot of research before I went to Scotland. And while I found copies of a lot of these prints at antique websites and auctions all over the Internet, I never once found the book that these book plates were from. I had assumed they were book plates but this was the best lead I had yet! And there it is: The Antiquities of Scotland by Francis Grose, Published 1797. And archives.org has the entire book online!
All of my prints are book plates
from THIS book!
Sorry, little excited there.
First things first. The book verifies that my St. Roque's Chapel is in Edinburgh (well was – is – was – you know what I mean).
OK so going back to this print – North Berwick Monastery. The text of the book refers to it as "Nunnery" even though the engraving says "Monastery" (actually it is misspelled as "Monastrey"). This print doesn't visually match anything. Even the historic photos on
CANMORE – The National Record of the Historic Environment entry for North Berwick Nunnery
don't match up. So, while I am confident that this engraving is of North Berwick – it has North Berwick Law in the background – I just don't feel I can put a stamp of approval that I photographed this print.
However – not to end on a downer!
I purchased 58 prints and identified the location of all 58! I even tracked down the source materials!
Here are all 5,000 pictures I took with my good Pentax DSLR