Scotland 2015: Day 16
No breakfast picture today!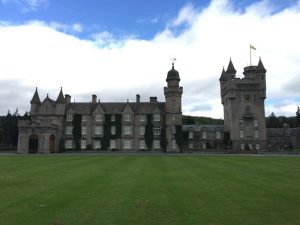 The first stop is the Queen's summer place in Scotland – Balmoral Castle – Castle #48. Apparently the hotel where I stayed gets better Internet when the Queens is in town.
Of course since it's the Queen's summer palace guess what they sell in the gift shop!
As I was leaving the highlands the fog rolled in. It was crazy! At one point everyone on the road just a stopped! Then we all drove real slow until a breeze came through and lifted this veil of cloud and revealed the mountains. Then everyone just stopped again to admire the view. Finally, we all went back on our way – very much a moment.
Gorgeous White Castle (ha ha) – Castle #49 – Blair Castle.
Too bad you can't eat any of this while driving!
This cathedral was on my list.
I still have no idea why this was on my "must see" list? Church #14 -Dunkeld Cathedral.
For you tombstone symbologists…
Then the day got real fun. The LOW OIL light on the car turned on. I couldn't figure out how to open the hood because, of course, they open the hood differently in Europe. Then of course what oil goes in it? It's a diesel engine, does that matter? Why was I low on oil? Did I do something wrong? It's all good now. Heading to Glamis Castle.
The approach is awe inspiring…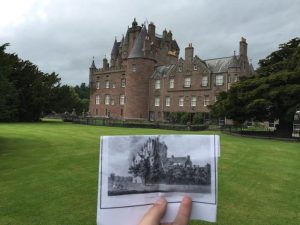 Everyone takes the front shot – but the print is clearly from a side view! Castle #50 – Glamis Castle. Print #13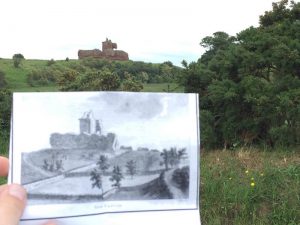 This next one was a real challenge. The ruin is on private land with access roads marked "private" and the Police were driving up and down the road! I parked on the side of the road and made sure to stay on public land. These farm fences with steep curves are dangerous! For the real camera I used a monopod and a remote control (via my iPhone) with the pole resting on my tummy – pretty tricky but I got the right angle! Castle #51 – Red Castle. Print #14
Scotland 2015 Totals
Days: 16
Prints: 14
Castles: 51
Churches: 15
Historic: 12
Nature: 9
Prehistoric: 8
Map Day 16: Braemar to Broughty Ferry