Scotland 2015: Day 22
Day 22 – starts with some porridge 🙂 Would you believe that it's raining?
Biggar Kirk – Church #32 – Print #46 an easy one. The custodian of the church was taking her friend around so she insisted I come inside with them. Her friend said she lived in the town for years but had never been inside. I asked if that was because she was some kind of heathen and she said no – it was because she was the pastor at the other church! We all had a big laugh and she told me that some of her best friends are heathens!
I think the tombstone part is missing! The part with the name and date!
A stool of repentance!! From 1694!
Followed GPS coordinates to a farmhouse and was shown the only bits that were left of Drumelzier Castle. Castle #77 – Print #47.
Rosslyn Chapel. Not rustic like in the movies. Well manicured grounds, glass dividers for entry. Very much a tourist trap. A nice one though! Church #33.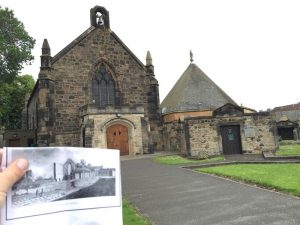 The church has been completely restored! I still got a good alignment. St. Margaret's Parish Church. Church #34 – Print #48. Probably the most exciting news is that the church is in Restalrig, which is practically IN Edinburgh. I have completed the loop! So how much more can I do tonight to leave myself room for tomorrow?
Some Great tombstones!
OMG – I only have 6 prints left and they are at 2 locations.
St. Anthony's Chapel is in Holyrood Park. Great find, right across the water, just like 200 years ago! Church #35 – Print #49.
I had to hike up that hill to get this view of St. Anthony's Chapel. Print #50!
I'm in Edinburgh! I got as much done as I could do, so I am going on The Scotch Whisky Experience! It's only been here since 2009 but the collection is vintage! Historic #17
They had scratch and sniff stickers!
And the largest collection of Scotch to view in the world!
And over 400 types you can order at the bar!
The 19th century Camera Obscura was open! Historic #18.
I am so excited!
What a powerful powerful display of science and history – they could pan and view all over the city! I came home and built one!
The building is the Camera Obscura and World of Illusions. I will refrain from posting my 4 floors of optical illusions – got some great ideas! They had a mandalas app that was no where near as good as mine. Also here is a thermal selfie.
Dinner at the White Hart Inn the oldest pub in Edinburgh – open continuously since 1516!!! Historic #19.
That's it! Tomorrow is my last day! 4 prints left at the Abbey, then a quick visit to Edinburgh Castle, and then, maybe, to The Museum of Childhood!
Scotland 2015 Totals
Prints: 50
Days: 22
Castles: 73
Churches: 35
Historic: 19
Nature: 11
Prehistoric: 8
Map Day 22: Quothquan to Edinburgh