Scotland 2015: Day 20
And it's raining!
Eggs Benedict with salmon and porridge!!! Mmmm
Remember that rain I mentioned? The roads were flooded all over the place!
The second print of Dryburgh Abbey looks nothing like the reality of being here. At first, I took the closest angle I could guess. Then I walked around and around and realized that the engraver didn't understand what the artist probably drew and tried to fix the geometries (incorrectly). Trying to get into the artists head, I finally found the rightest spot!!! Print #35.
No print here but it was right around the corner from the last place and a must see. Church #29 – Melrose Abbey.
They were prepping for a wedding! At a ruin, how romantic.
What a gargoyle: A pig playing the bagpipes!
The Heart of Robert The Bruce! Now I've seen the whole thing!
It really is a great ruin!
I have a long drive today so I grabbed some take away… Haggis is good!
Gorgeous right? Castle #62 – Caerlaverock Castle.
Another great shot of the ruin!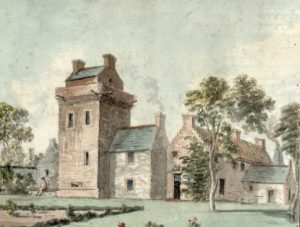 My print is dated, 1789. This painting by Alexander Nasmyth for Robert Riddell is dated 1787. However in 1771 Robert Riddell pulled down the old and ruinous buildings to create room for a new mansion, which itself was completely rebuilt in 1873. I'm in the right spot at the right building – it just doesn't look the same. That's all. Frairs Carse – Castle #64 – Print #39. But it gets better! The great Scottish poet Robert Burns wrote Auld Lang Syne here!