Day 2 – Compiegne
(Sorry for the extended delays between posts- the Internet has been terrible and our nightly routine has been focusing on downloading and backing up data from all of the cameras and also charging all of the batteries – plus we have to pack and repack and load and unload the car daily!)
We left Senlis first thing in the morning loaded up the car and drove to Compiegne.  This is the first city in France that I ever visited and have been back several times.  I had planned on a slow start and we got to Compiegne right around 11:45am.  With check-in at noon I asked if we could check in a little early and he said fine and handed me my door code and a bag of pink marshmallows!  It turns out that the marshmallows are a promotion and the ones we threw away yesterday were ours to eat – damn!  We tried them and they were awful.  Not awful – like bad – but awful like if a marshmallow is going to be SOUR instead of sweet that you would want to know first.  After the surprise wore off we ate the whole bag.  We unloaded the car and headed out to have lunch and do some exploring.
After a quick lunch we headed to the Tour Bouregard.  This is a funny little tower in the middle of a parking lot.  It is also called the Tower of Joan of Arc in her honor because from this tower the captain of the city witnessed her being captured by the Burgundians.  It is all that remains of a larger castle that once stood here.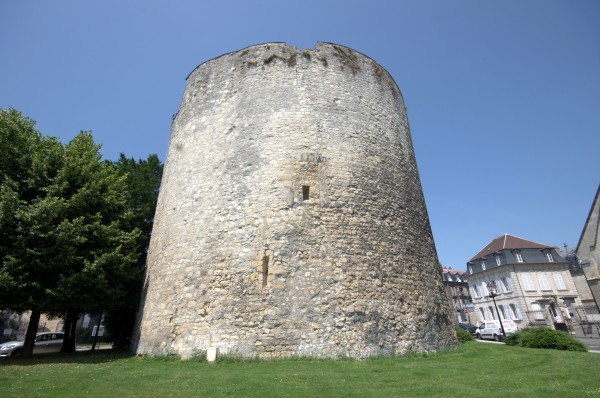 From there we headed to the Chateau d'Compeigne.  The castle has been built and rebuilt many times and was often a seat of royal power – it was also a hunting 'cabin'.  Most of the wall decor is painted to look real – but it is fake granite, fake marble, and fake carvings.  Apparently painters work cheap!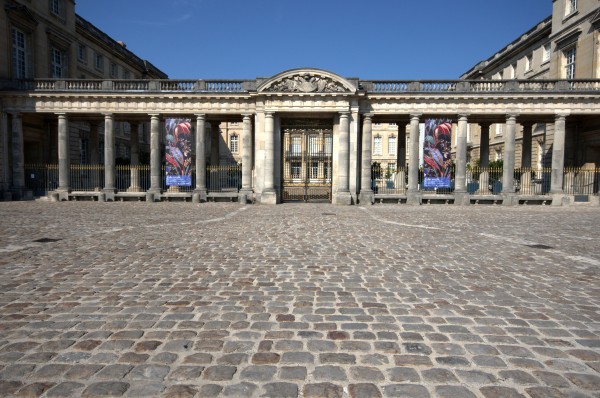 It wasn't too crowded but it took forever to get the picture of the back of the Chateau with no people!  This one couple was sitting there just lounging around (and saw me trying to take a photo) when the man got up and asked if I would take THEIR photo.  Of course!  I took their photo and then they SAT BACK DOWN!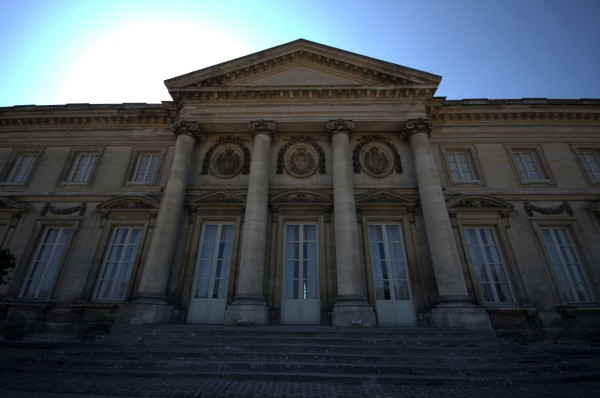 The dining room didn't look made up in a fake way – it looked fresh – like people were about to sit down to eat.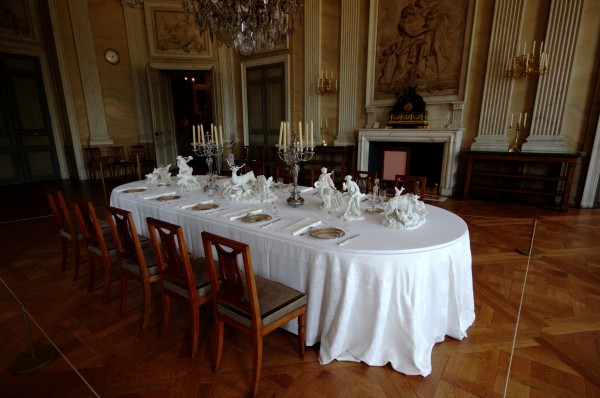 This pinball looking table looked really fun – behind it there appears to be another game table like a shuffleboard.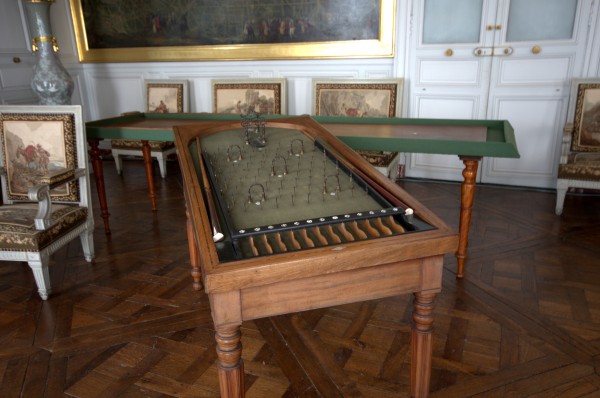 The ballroom was huge.  There was one guy in here who knew I was trying to take a picture and just kept dancing around the room with his audio tour – looking at the ceiling then at me – then the wall – then at me.  I was patient – I think it pissed him off.  I never ask people to step aside – I just wait.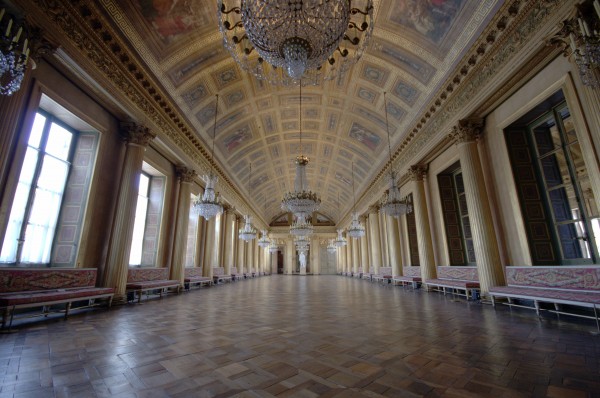 I have been to this castle many times and I always love this bedroom.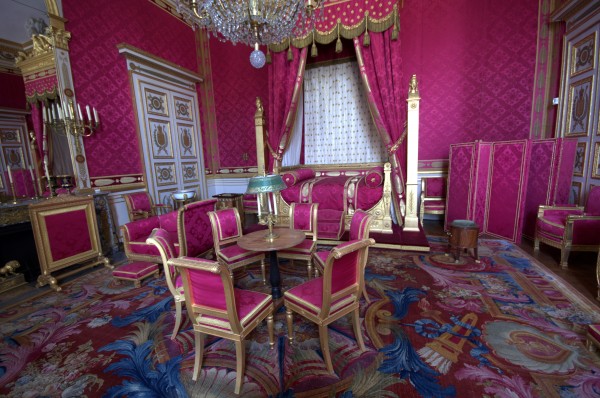 Some of the furniture is so unusual – I wonder how comfortable it is to sit and talk in this.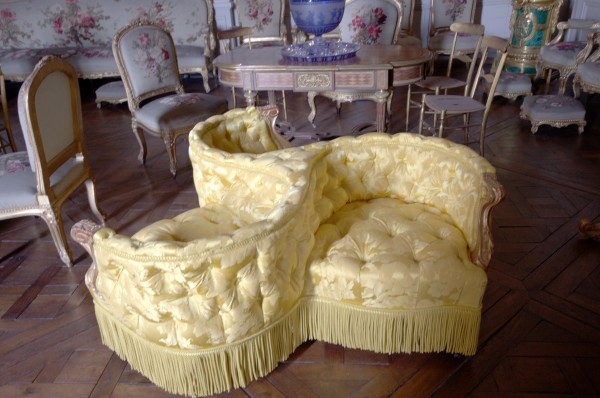 I saw a painting of Pierrfonds (which is my favorite castle) – we visit it tomorrow!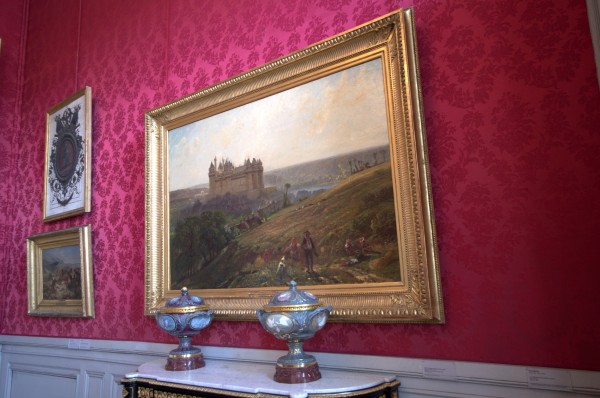 After the castle we headed to the gardens – which were very expansive but not very floral – large fields of green and trees – we will be going to better and more visually attractive gardens soon.  We headed into town where I took this photo in the parking lot: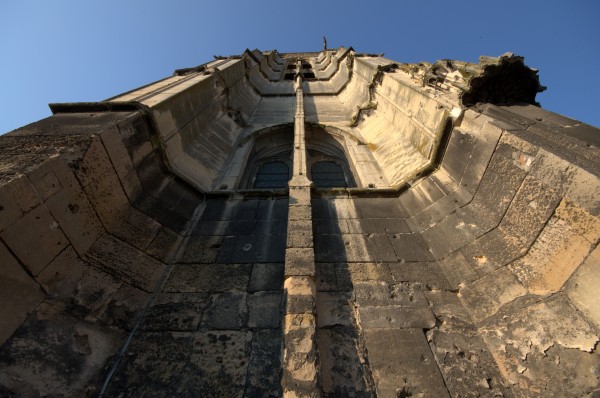 It is of the Saint-Jacques Church of Compiègne.  While the photo is pretty – it isn't part of the film or the narrative (so it doesn't count on my uber list of places visited).  We then went shopping at the MonoPrix for some supplies.  I love the fact that the supermarket has an entire display case dedicated to smoked salmons! We got a cooler bag and some big bottles of water – We also needed to get something to cover inside the car.  The luggage all 'fits' inside the trunk but only if we move the seats forward slightly which means that a small amount of the trunk is visible.  I got a black bed-sheet which we cover the inside of the trunk with to obscure the view when looking from outside.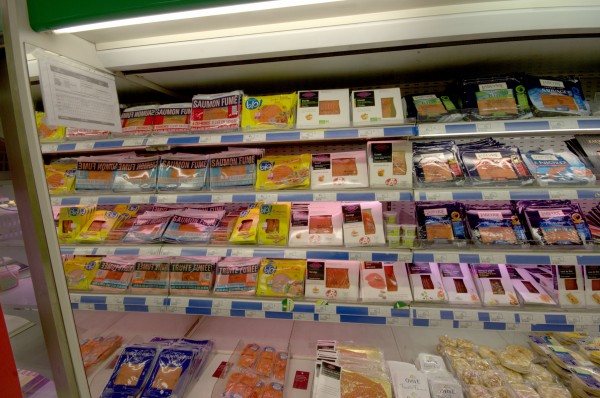 Now for the foodies.  I am not a big fan of mustard and though I have been slowly building a tolerance for the 'flavor' of mustard it still is a shock when you order Mayonnaise and get: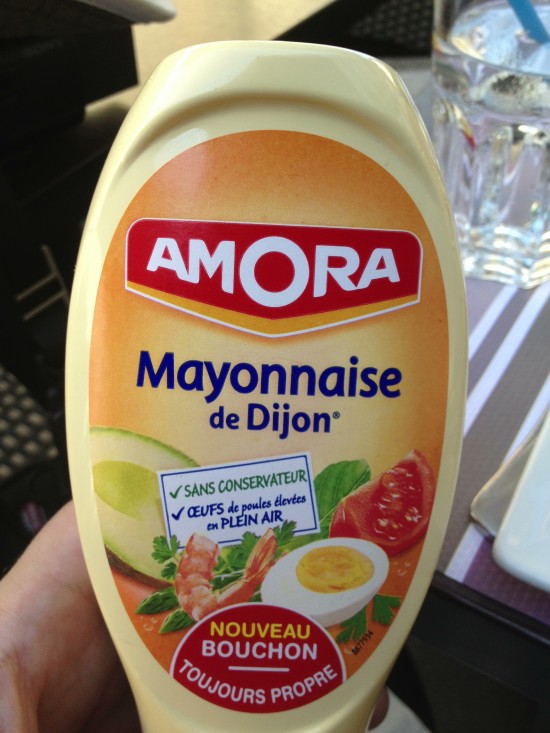 One of the great joys for me is the ability to order real hot chocolate after a meal (I am not a coffee drinker).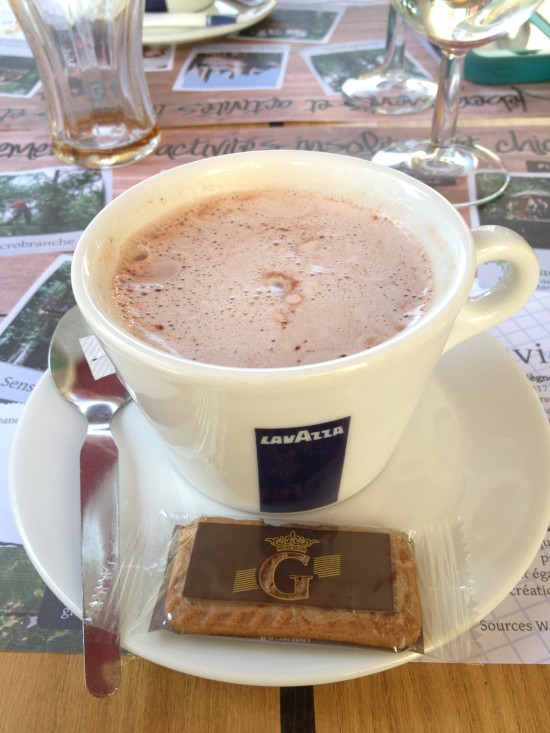 For lunch Amanda ordered the Croque Monsieur (ham and cheese) but I had the Croque Monsieur with Salmon – think lox and cheese served hot.  Of course everything comes with Pommes Frites (French fries) and the salad has a nice bit of what type of salad dressing?You guessed it – Mustard.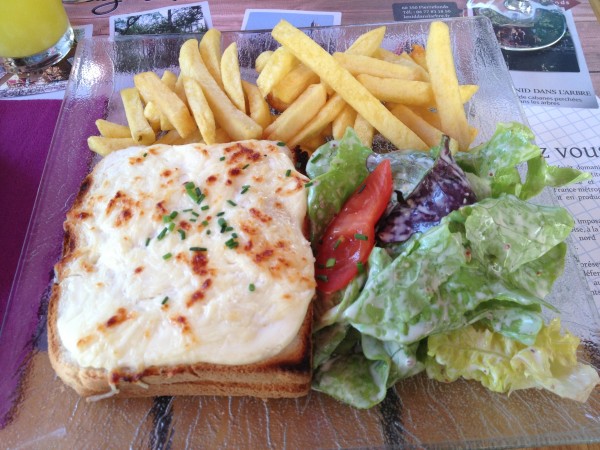 For dinner we had a 3 course 'menu'.  The starter was a Mushroom Terrine – which is a meat spread.  A little rich in flavor for Amanda – and the pink stuff is pickled onions – which neither of us ate.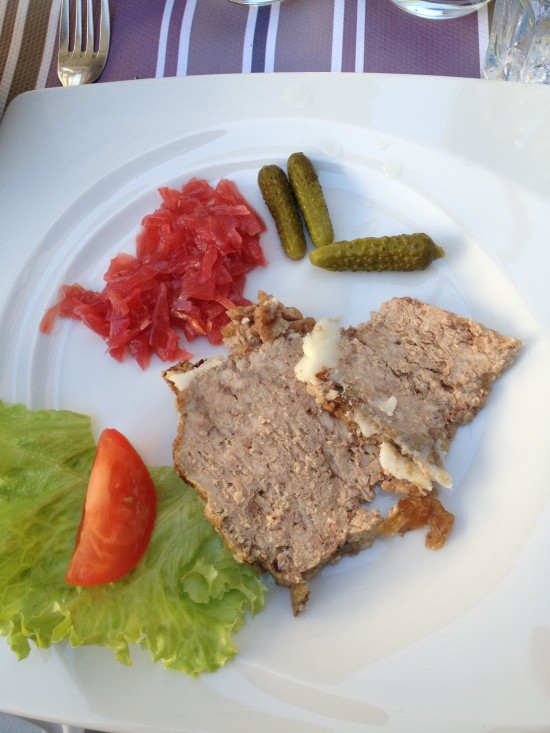 We also had the steak and fries.  While it was cooked it was also a red purple.  We have to remember that meat is served VERY rare here and well-done = medium.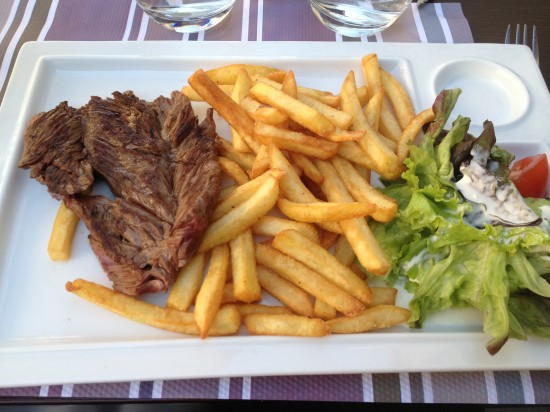 Of course I had to end my meal with the Creme Brulée – it was good – but then again I can't think of a time I have ever had a bad one!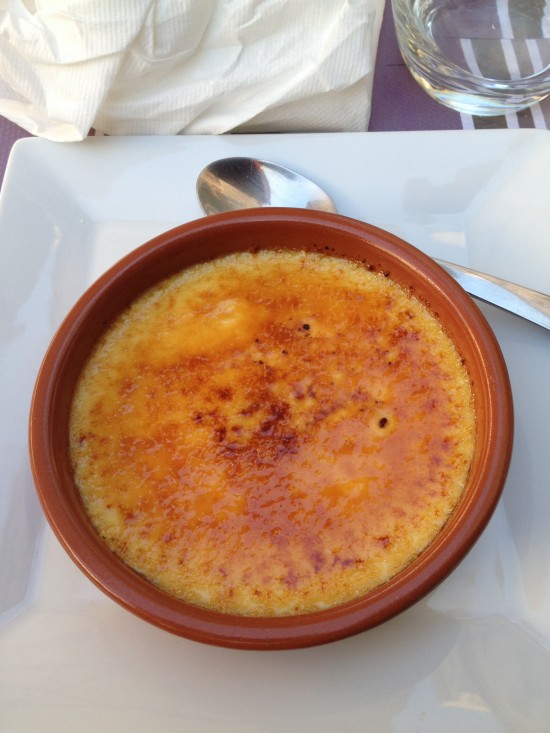 Amanda had the chocolate mousse.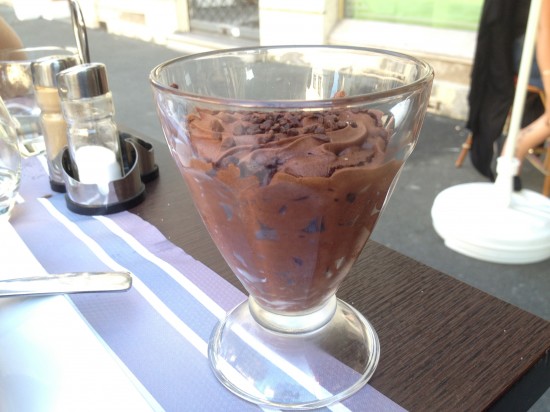 Since we were staying in Compiegne – we were able to just go back to the hotel after dinner and relax.
So this ends day two.  Trip totals: 3 places visited (all castles) and 111km traveled.  Don't worry the ramps up quick – I had to get us started a little slow to get us into the groove.
As always we thank you for the support of this project be sure to Like us on Facebook & tell your friends.