Day 4 – Amiens, Gisors, & Gaillard
We got up first thing in the morning to have a quick visit to the Cathedral in Amiens and then move on.  Of course we had to stop for some coffee, cocoa, and croissants (and some mini beignets).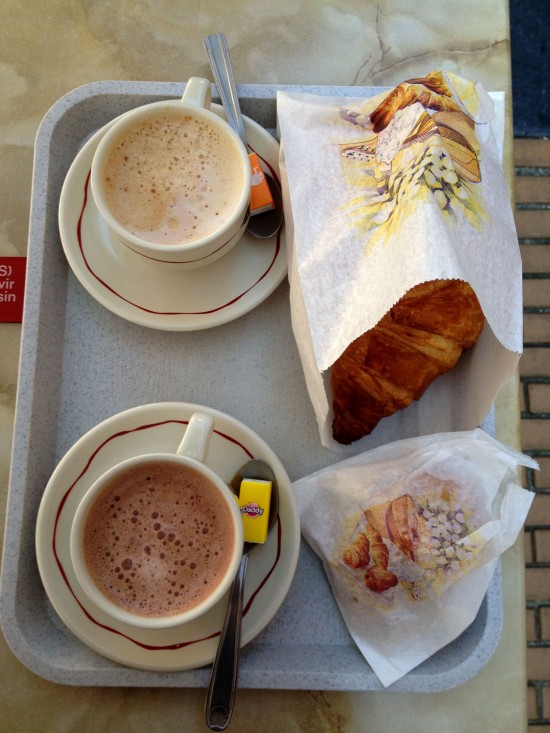 Amiens is the tallest intact cathedral in France.  Standing inside it makes you feel small.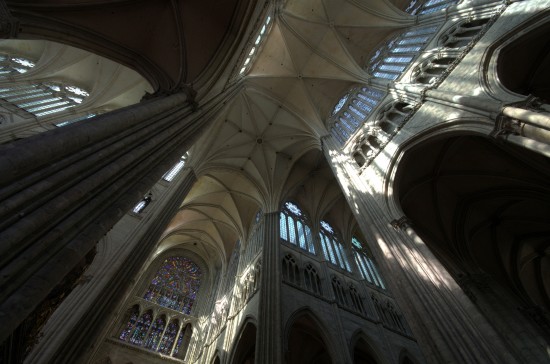 The cathedral has a floor labyrinth – walking it is amazing (sorry) – but it really is peaceful and you can see how praying or mediating while following it would be enlightening. Don't ask how I got this picture!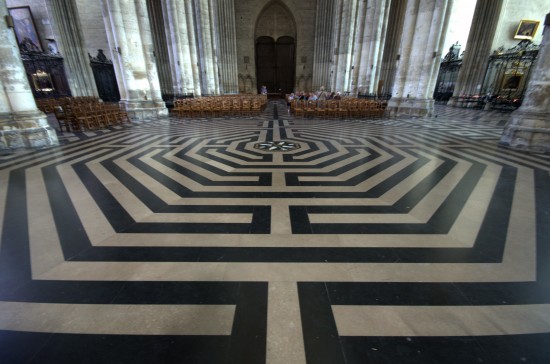 This brings us to the skill of John the Baptist.  Yes this is the skill of John the Baptist.  Can I prove it? No.  Can you prove it? No.  Are there others out there?  Yes.  What was more important was the importance of the relic to those visiting.  To be honest – no one was even looking at it until we started to film and photograph it and then a crowd gathered and we had to leave.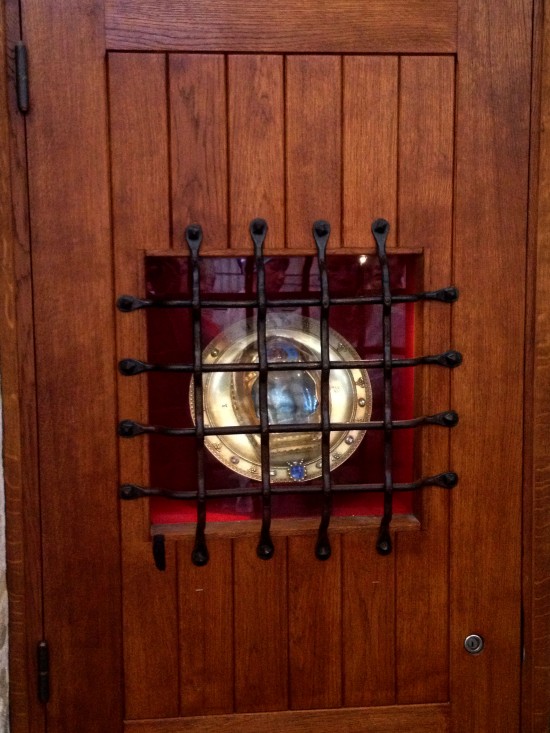 Our visit to Amiens was to enjoy the size of the cathedral and see the skull.  Our timing was perfect though as they were just taking people up the tower.  The gargoyles are cool!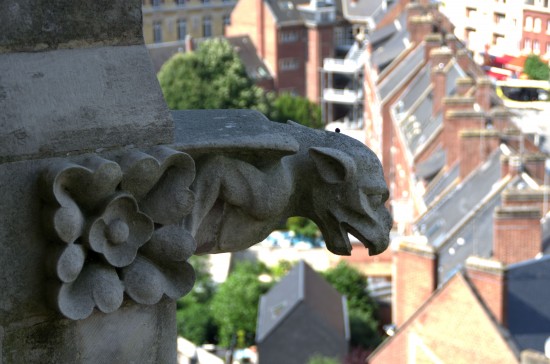 They told us that this is the only cathedral in France where you can walk at the 'level of the rose' and when standing right next to it you can see not just how big it is but also how it was built. This was only halfway up – they let us climb all the way to the top.  What a view and what a lot of steps!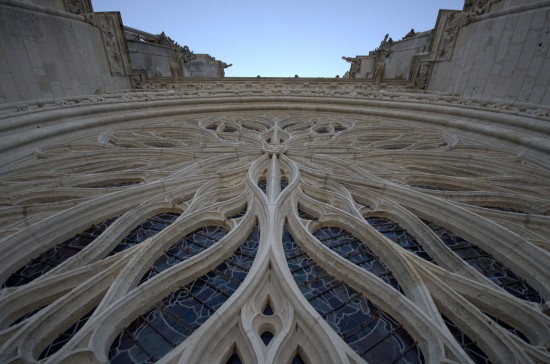 After Amiens we headed to Gisors.  Along the way we had a 'gas station' lunch.  Don't feel bad though the gas station food in France is pretty gourmet.  Ham & Butter sandwiches, dry sausages, Emmental flavored cheese curls.  It was helpful getting the GPS to allow for toll roads – now we get to take some highways.
Gisors is a classic Motte and Bailey construction – a Norman keep on a man made hill surrounded by an open field and a curtain wall.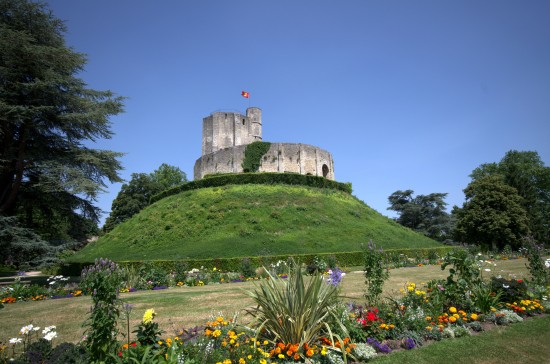 The weather was perfect and there were very few people visiting!
From Gisors (which is 11th century) we headed to the Chateau Gaillard (which is 12th) – this is the castle of Richard the Lionheart.  It was a challenge to get there as there were many detours on the road because of construction – a real struggle between the signs and the GPS.  I can't say who won the fight.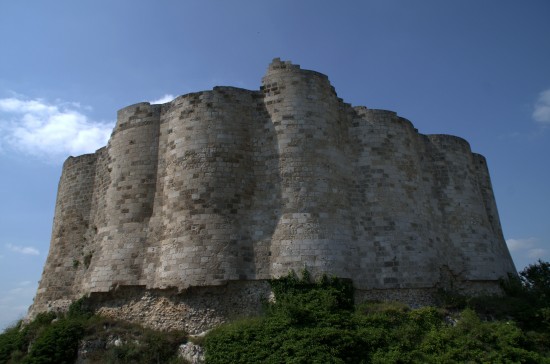 It is a crazy drive up the mountain (not man made) and then an insane walk to the castle which is in ruins.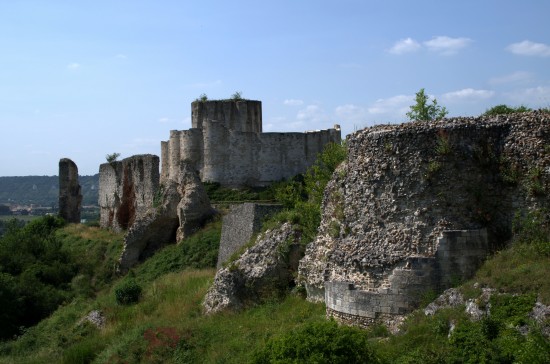 The ruins of the castle are free but the inner keep you have to pay to see – we did both but I think the outer ruins are better.  We explored every nook and cranny of the castle.  Some amazing views.  We met a historian who suggested while in the area we try and see the Bayeux tapestry.  Everyone we meet always has a suggestion of where to go next – however this one I have to admit was pretty good – I didn't realize we might be this close and if I can squeeze it in I might!
I wish I could tell you we had some glorious dinner but most places were closed and the hotel gave us a coupon to a chain restaurant (hey it was still French – it is not like we ate at a Leon of Brussels) – I had a wood fired steak and this dessert platter (yes I have 2 whip creams because I had to substitute the alcohol laced fruit).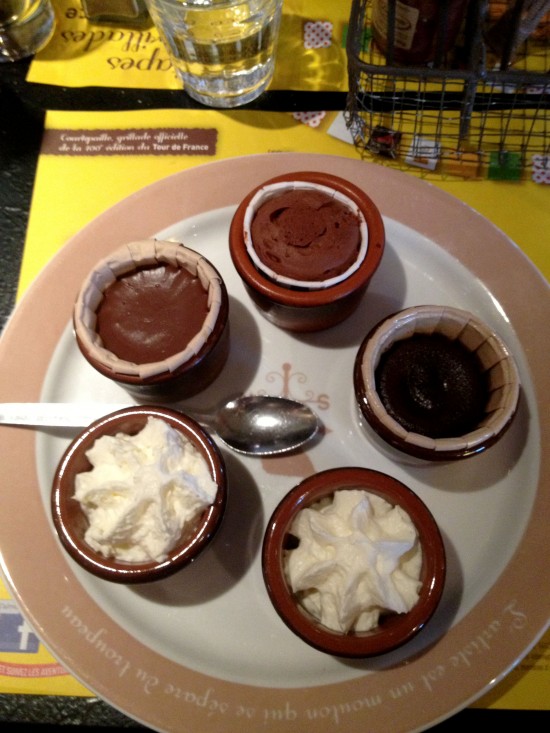 So endeth day 4! The weather has really held up and tomorrow we head to see Monet's garden in Giverny!
Trip tally: 427km traveled.  8 places visited (6 castles, 1 cathedral,  + 1 place of cultural significance).
As always we thank you for the support of this project be sure to Like us on Facebook & tell your friends.