Peru Day 0 – Before the trip….
Ok, so here it goes.  Blogging for the trip to Peru.  Its 3:30am, we leave at about 12:30 and I am still catching up on my last minute to do list.
Tim and I have a very open agenda, we know roughly where we want to go and roughly how one gets there.
We fly into Lima tomorrow via Atlanta.  We expect to spend a few days in Lima seeing some museums and soaking up the culture and then taking a bus to Cusco.  Tim wanted to fly but the risk of altitude sickness and bedrest once you get there is high and the long bus ride would be eventful and gradual.
Assuming my info is correct we can bus from Lima to Nasca and see some stuff about the lines (but not the lines themselves without getting a charter flight).  From Nasca we take a treacherous but fun journey to Cusco.  Spend a few days in Cusco.
Then we head to Machu Picchu for a few days and take a bus down to Puno and visit Lake Titicaca.  We then head to Juliaca and fly back to Lima to fly back home.
That's the rough plan.
Now what am I bringing?  Lots of camera, no pda, no computers, and one iPhone.
My Pentax film camera with a 17-35mm, 50mm, and 70-300mm lens.
My StereoRealist 3D film camera.
My new Nikon 12 Megapixel spherical panoramic rig.
My Sony HD camcorder with a wide angle lens and microphone (set to SD)
15 miniDV tapes, 110 rolls of film, 8GB flash card for the digital camera, 3 rechargeable lithium camera batteries for the digital camera, and 2 rechargeable camera batteries for the video camera.
And assorted gadgets.
Hopefully I will get to an Internet Cafe every 2 to 3 days to post more.
For your amusement a picture of the technology pre-packing….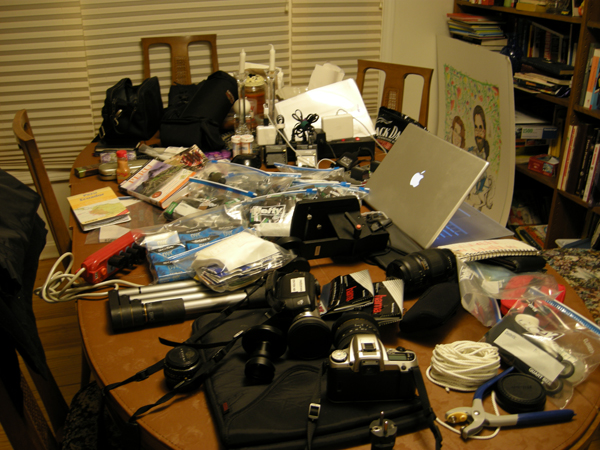 [Re-posted from my University Blog & Edited 07/01/2011]