Day 6 – Caen & Normandy
As we head into Normandy it is amazing that the weather is still holding!  There are these funny posters that show the entire country of France with little suns all over it but clouds over Normandy.
Some people have asked about how we 'work from the car'.  All of our essential are in our backpacks – this includes technology, cables, cameras, harddrives, medicines and such.
Everything else is packed in 2 big and 2 little suitcases that we fit in the trunk of the car.  (The quadcopter is also in the trunk).  To get the suitcases in we had to move the seats up slightly so we cover the gap with a black cloth.  From the outside you really can't tell.  And luckily as time has passed the car no longer looks as 'new'.  Thank you dead bugs and dirt.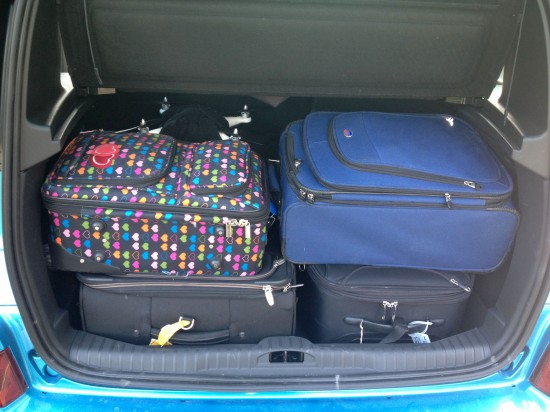 Having spent the night in Caen all we had to do was get up and head 2km down the road.  It is a HUGE fortress.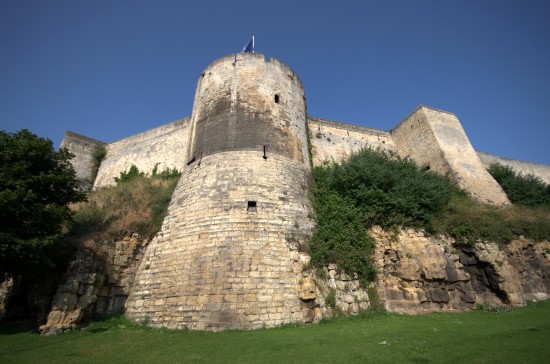 Like many castles it was built and rebuilt.  The original part of the castle, which was the palace of William the Conqueror, is a total ruin and an archeological dig.  Next to it is the 12th century keep of his son, which was later built up with towers.  It too is a ruin – destroyed during the revolution because of its use as a prison: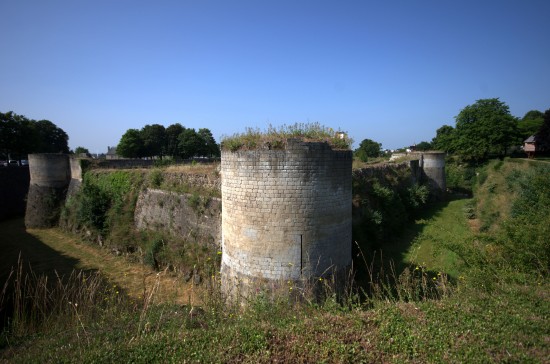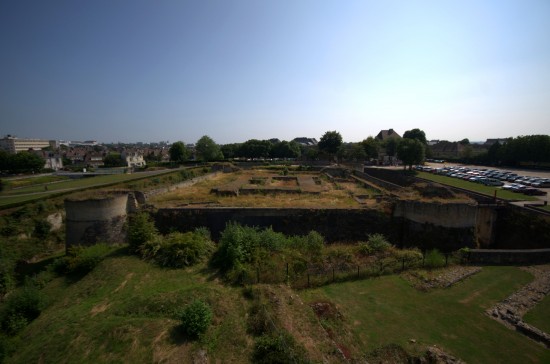 There isn't much to see INSIDE Caen.  They let you walk the ramparts (they even have an elevator for part of them) and most of the remaining structures are museums (art and history).  We bumped into the historian that we met several days ago again – and he mentioned he was going to Bayeux to see the tapestry so we decided we would also go (though not together).
The drive to Bayeux was lovely and the tapestry (which is really an embroidery) was amazing:
In case you are wondering, no, they don't allow for photos or video.  I used my video sunglasses.  They entire tapestry is behind glass and goes down a long wall and then wraps back down on the other side. They give you an audio tour that walks you through the entire story – it is VERY well done – and then they dump you into the tackiest gift shop you could ever imagine.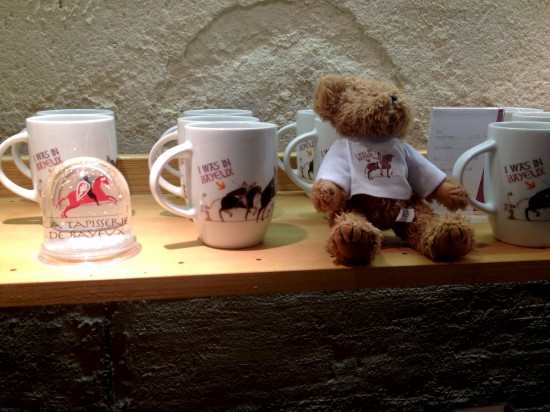 The tapestry is on everything.  And everything is expensive.  The is technically more to the museum with multimedia and stuff but the reality is that they are a museum with one artifact and they really milk it.  That being said – if you are near Bayeux – you HAVE to go – its worth the 15 minute walk around the tapestry!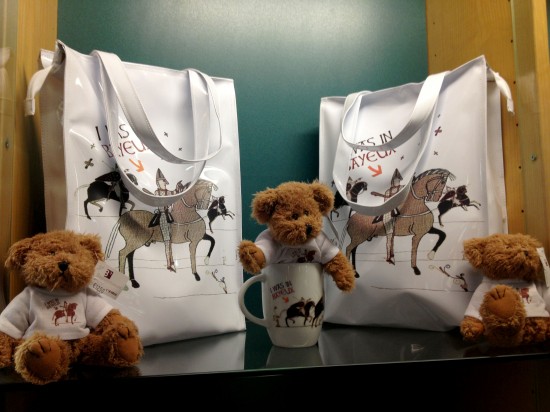 Bayeux was the first town liberated after D-Day and it was really appropriate because our next stop was Omaha Beach.  We didn't stop for souvenirs – just sat at the monument for a half hour or so and enjoyed the wind and the waves.  Shockingly even though it was FREEZING – people were swimming.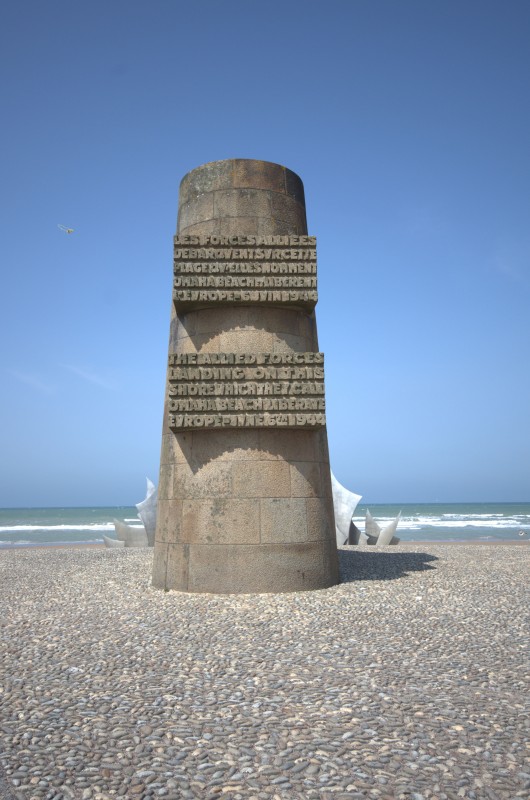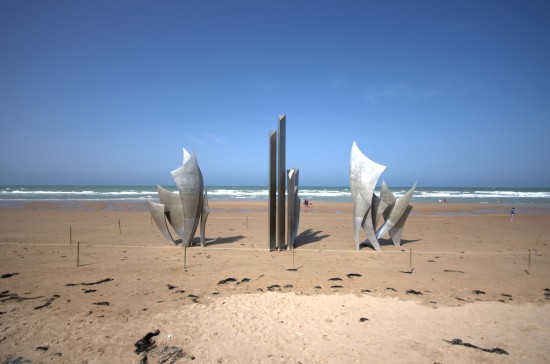 After the beach we headed to the American Cemetery.  Very moving and  most people were actually being respectful.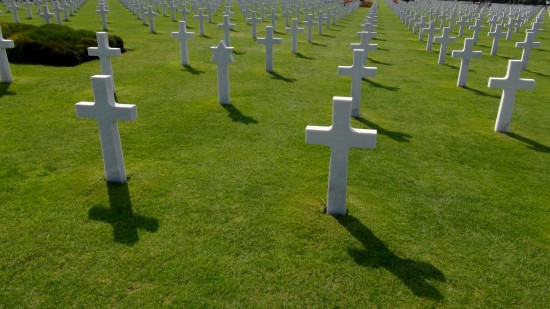 One of my favorite parts of the cemetery was the ongoing look of confusion that the Jewish stars on some of the markers caused.  You would see a small group walk up – look confused – have a discussion involving the word "Jews" and then move on.  It was genuine confusion – but a great teaching moment.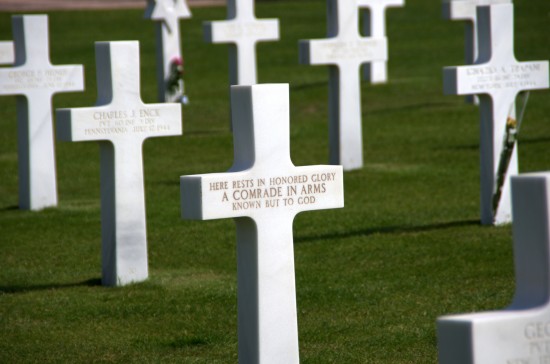 It was pretty late by the time we hit the hotel and while we thought we would miss dinner there was in fact one restaurant still open – a Chinese buffet.  It was huge and they had everything from traditional Chinese dishes to Sushi and a custom grill section. On the way out they tried to give us shots of alcohol!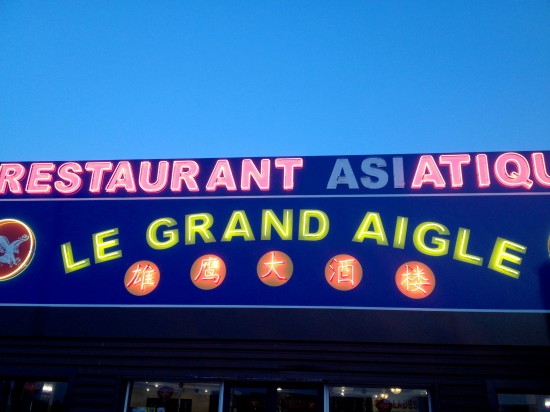 Tomorrow we only do ONE thing – but that one thing is Mont Saint Michel!
Trip tally: 808KM traveled.  14 places visited (8 castles, 1 cathedral, + 5 place of cultural significance).
As always we thank you for the support of this project be sure to Like us on Facebook & tell your friends.