Day 5 – Giverny & La Roche Guyon
It is very cold and it looks like rain.  Not the thing you want to think when you are heading to Giverny to see Monet's Home and Gardens.  We did a quick deep dive into the suitcases to grab jackets and rain gear.  Luckily, while it stayed cold it also stayed dry.
Giverny is a nightmare.  It is filled with buses and tourists.  And with rude tourists comes rude service (I mean who can blame them).  Breakfast was good but the service was terrible.
However – seeing Monet's home is really awesome.  As an artist he really created the right working environment.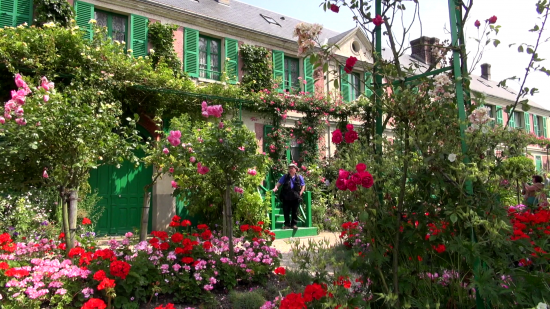 They don't allow for photography or video in the home itself – which is fine since his paintings inside are all reproductions.  However Monet had an amazing Japanese print collection and being this close to "The Great Wave" I just had to grab a quick pic with my video sunglasses (no – I didn't use a flash).  Yeah I know it is a terrible picture but I was SO close to it.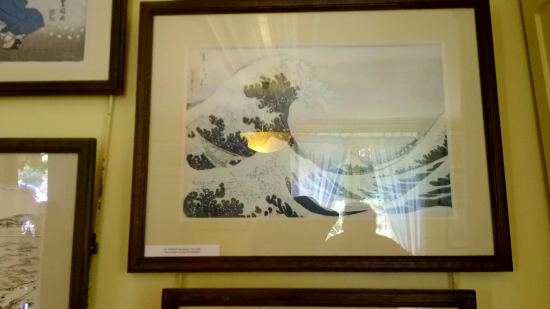 The water lily garden with the Japanese bridge is one of two gardens.  The crowds were terrible – they should have people movers and automated cameras like on a roller coaster.  People were pushing and shoving and jumping in front of each others photos.  The picture shown here is a complete fluke – Amanda shot it at the one moment of emptiness – I mean it must have been a split second in which she got this picture.  I spent a lot of time on the bridge trying to get the right video segment and this photo is not representational of the throngs of people taking picture from one crowded bridge to the other.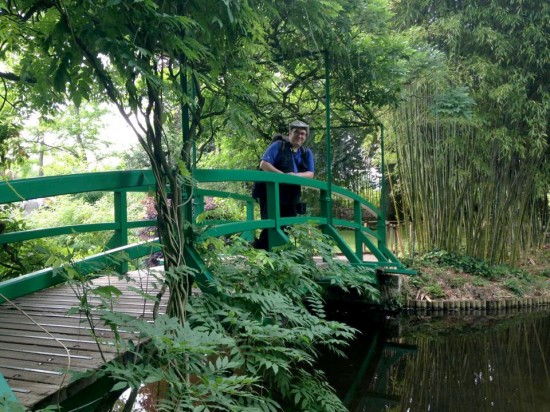 If you avoid looking at the people – the water lily garden is amazing.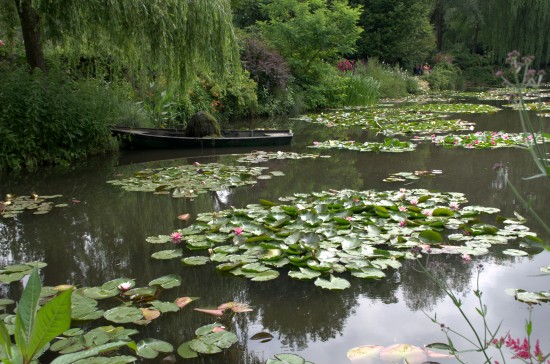 The other garden is a flower garden.  The crowds were more polite here.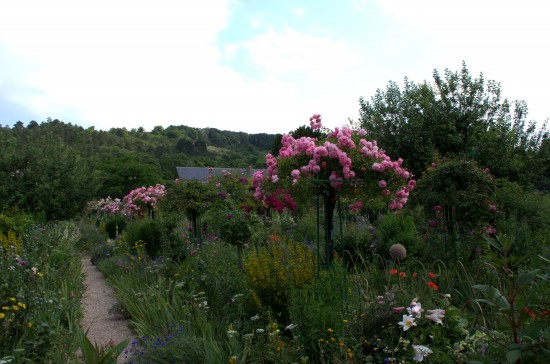 The flower garden is an opportunity to practice taking photos of flowers. Enjoy…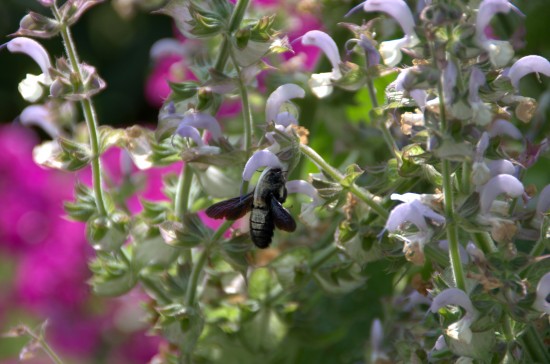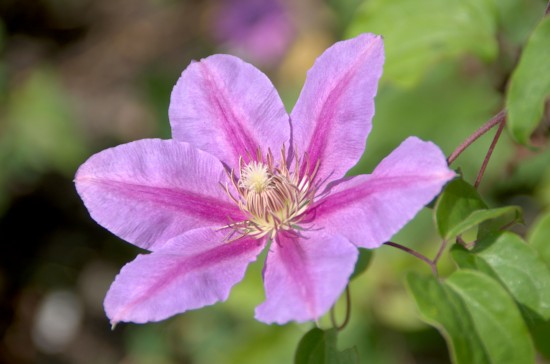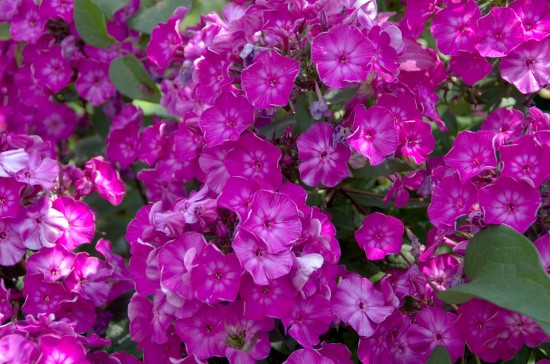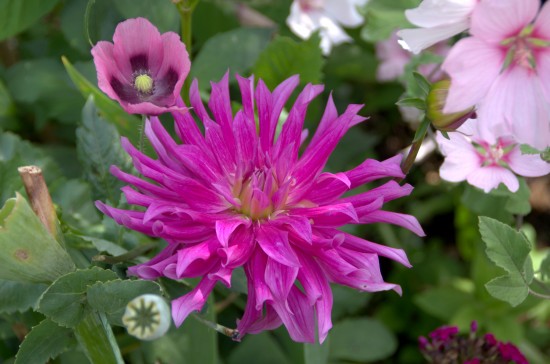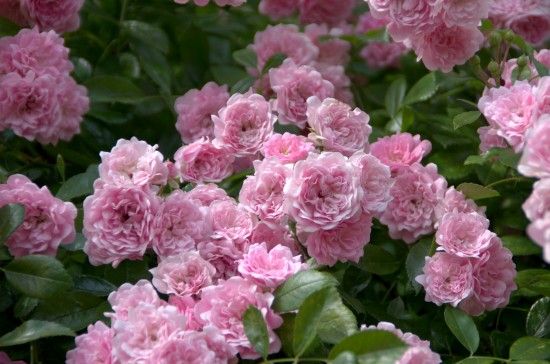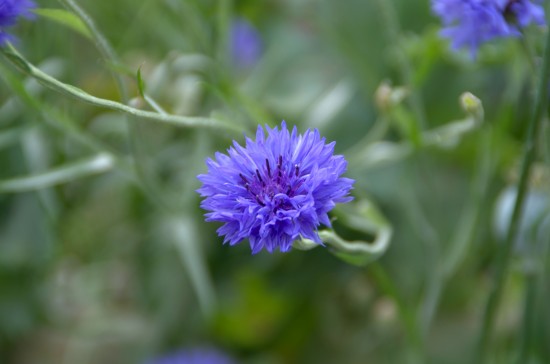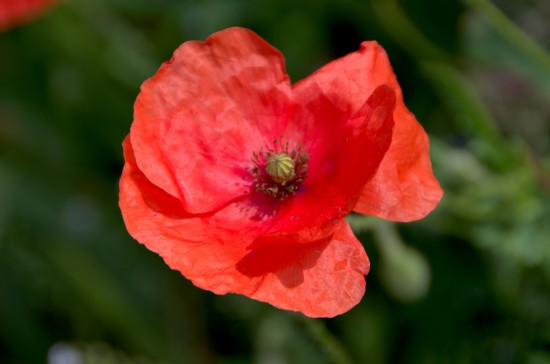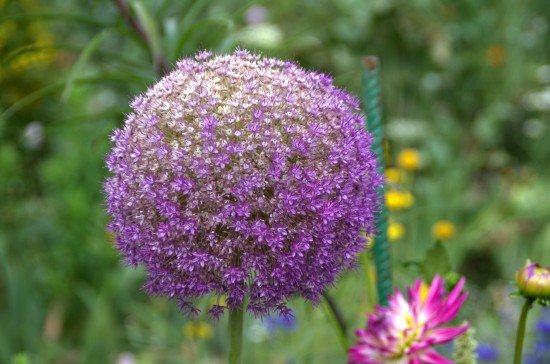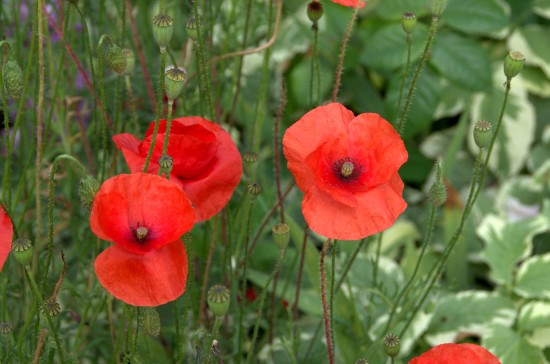 At the flower garden I noticed something bizarre.  The button on my camera that allows me to change the lens had broken off of my camera.  After a minute of panic I realized I needed a pin and thanks to the gift shop – I now have a Monet pin and can again change lenses.
At the church down the road is Monet's grave.  No crowds here. At all. Very sad.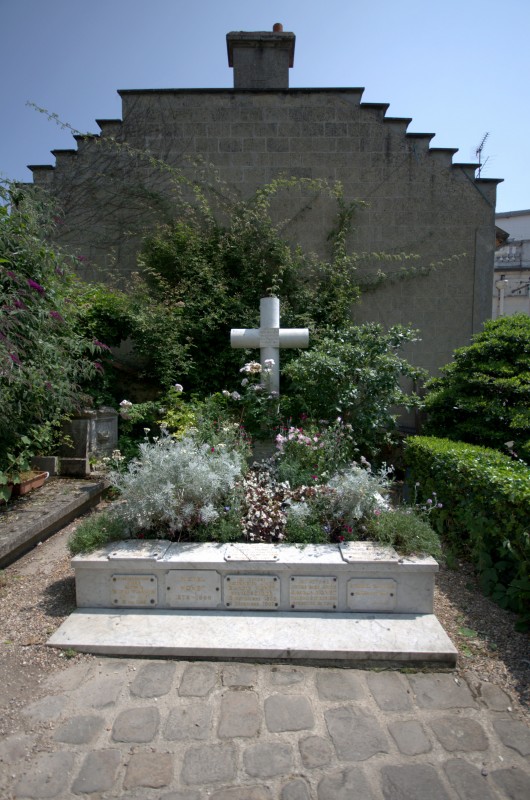 We left Giverny and headed to La Roche Guyon.  I have been here a few times but we got a little lost trying to find a place to park and ended up circling the town a few times before finding a PERFECT spot right in front.
A few years ago I had a Salmon Crepe that came with a surprise side of Caviar.  We went to the same place for lunch and it was just as good as last time.  I am a loyal customer!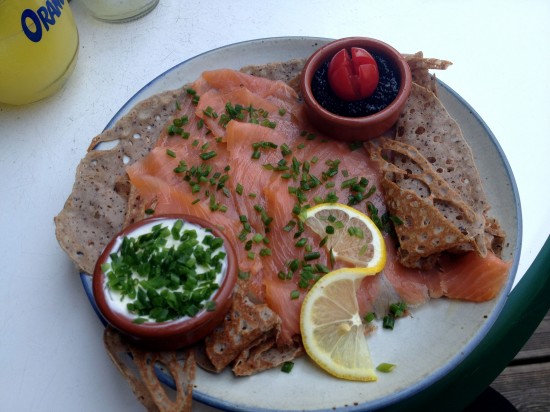 And some of the best frothed milk and chocolate I have had yet!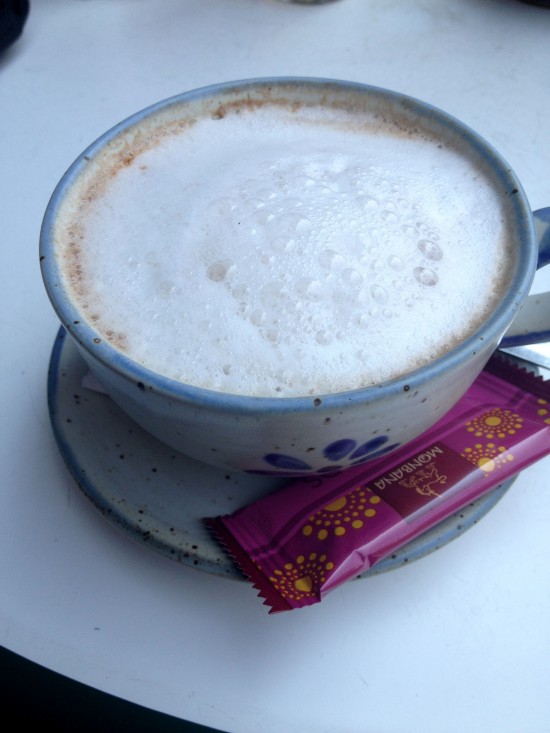 La Roche Guyon is a double castle.  The 12th century castle is carved into the limestone cliff and on the top there is a 12th century tower.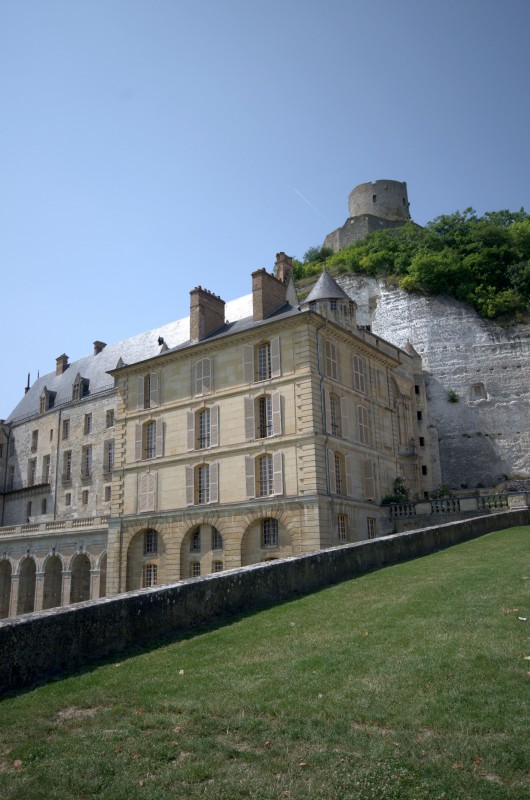 You enter the castle from the main entrance on the ground floor and start to climb…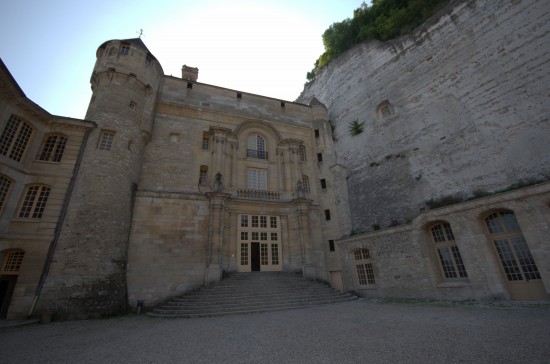 The ceiling beams are nicely decorated.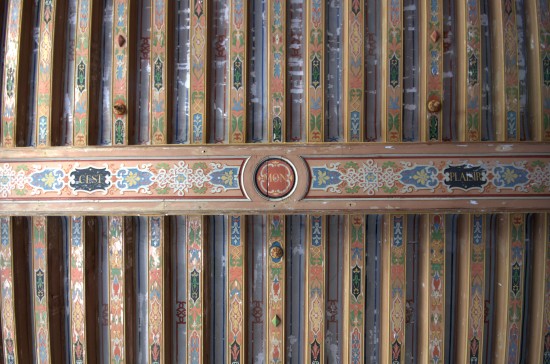 The castle had strange multimedia installations.  At one point there were couches and headphones on an outside balcony!  This is an old hair dryer that has a speaker in it: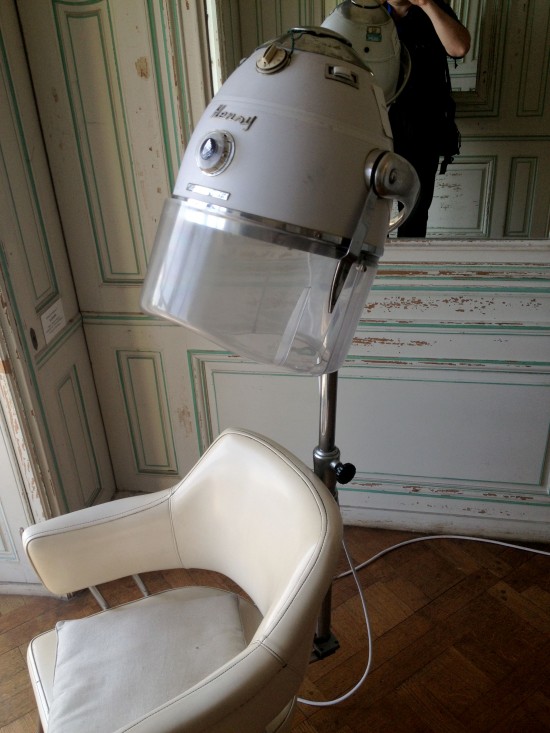 At the top of the castle there is an entrance to a tunnel that leads into the cliff – and a secret staircase leading up to the tower.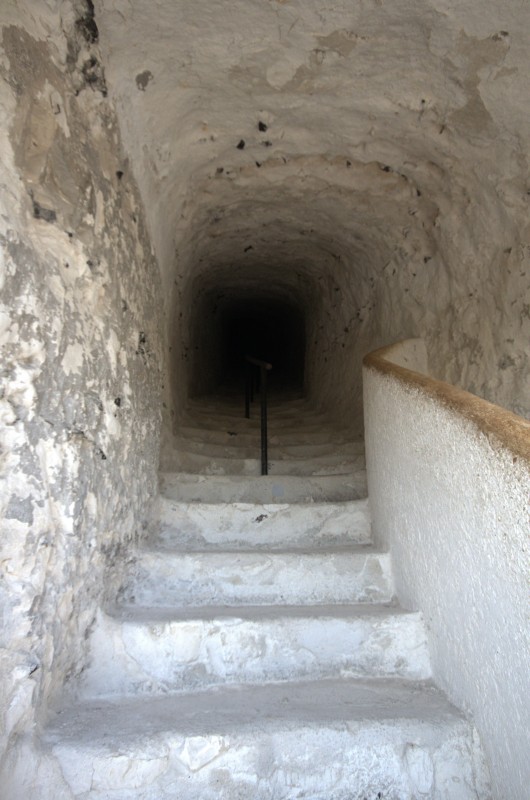 Half-way up is a pigeon coop. Very imaginatively they demonstrate this by putting picture of pigeons in each of the holes.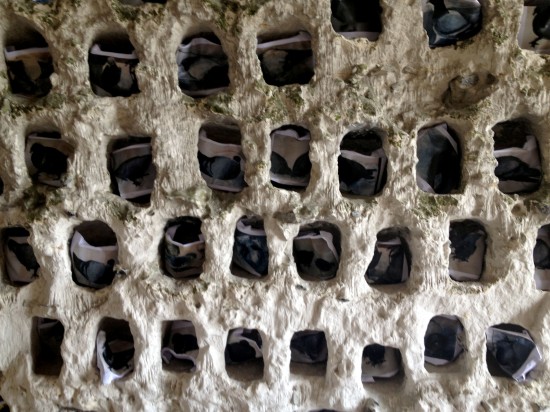 Back up the very steep steps and you get to the base of the tower.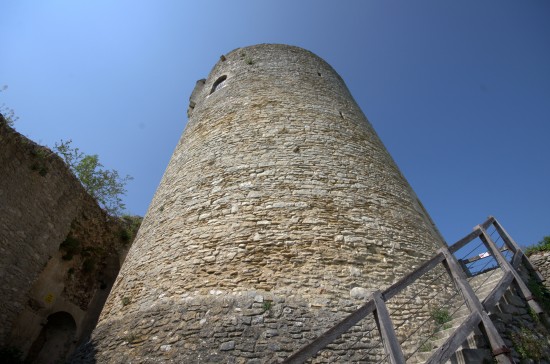 Through the door and up more steps to the top of the tower.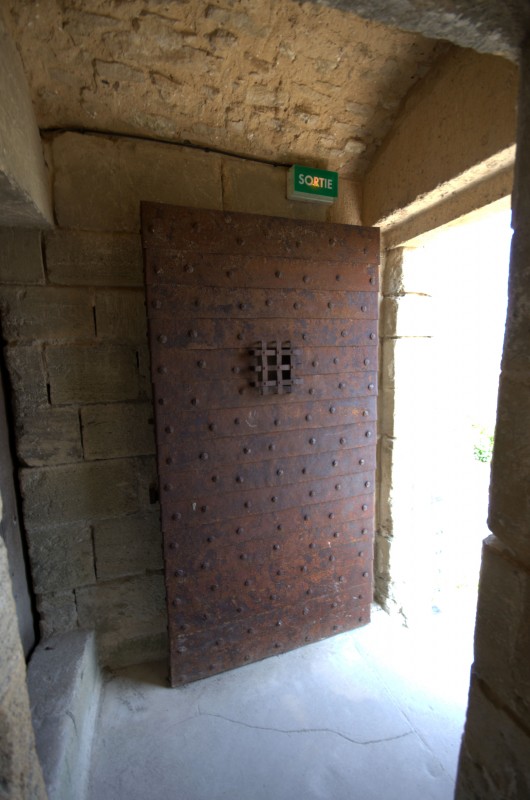 Luckily there was a toilet at the top!   I didn't see any toilet paper so I waited for the next one.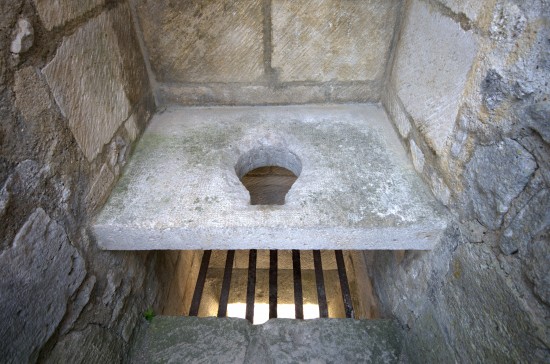 Then back down the stairs.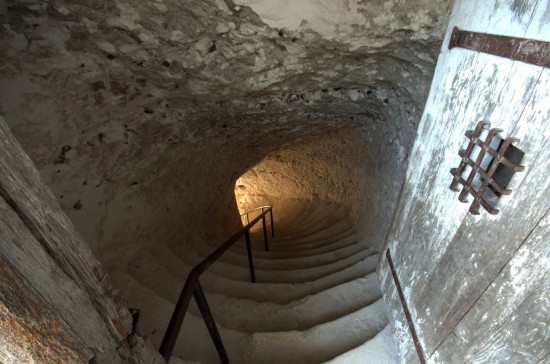 In the basement of the castle are casements that were cut during WWII when the castle was used as Field Marchall Rommel's bunker.
There are also prehistoric troglodyte caves as well.  Very dark and damp.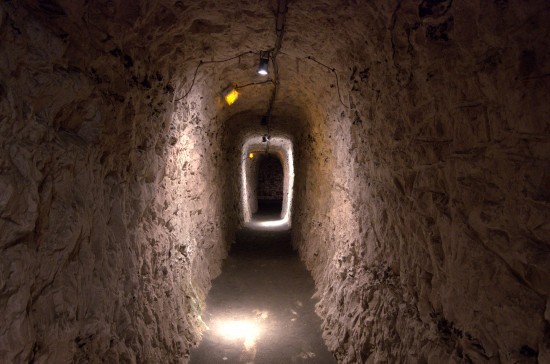 Just to recap – we climbed to the top of this: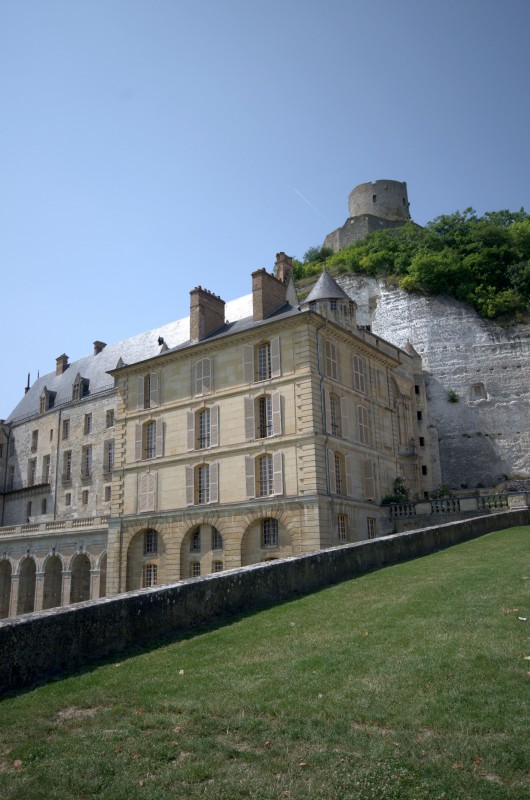 Which of course means I can have some ice-cream!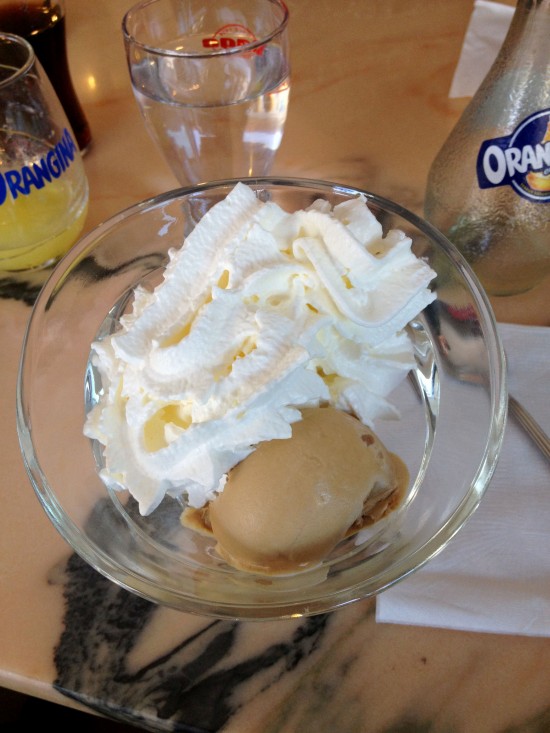 Back on the road – we headed to Caen to a hotel at the train station.  We got there pretty late and there was nothing to eat (except pink marshmallows) and a quick cheese sandwich.
The adventure continues tomorrow…
Trip tally: 643km traveled.  10 places visited (7 castles, 1 cathedral,  + 2 place of cultural significance).
As always we thank you for the support of this project be sure to Like us on Facebook & tell your friends.