Scotland 2015: Day 10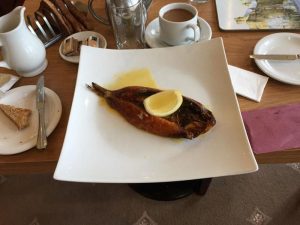 This is for my mom. She loves kippers. I didn't eat these kippers – the guy at the next table did – note the coffee (which I also don't drink). He was nice enough to let me photograph his breakfast.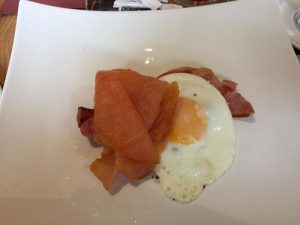 I once again had bacon and eggs and salmon and porridge… mmm porridge. I don't eat enough porridge at home.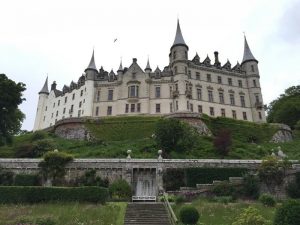 Technically my second castle of the day – because I slept in Dornoch Castle last night. This place is immense – Castle #21 – Dunrobin Castle. Just getting down the stairs into the gardens to take the photo was exhausting.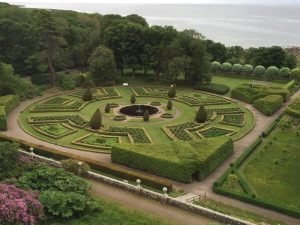 And the gardens themselves were worth the hike.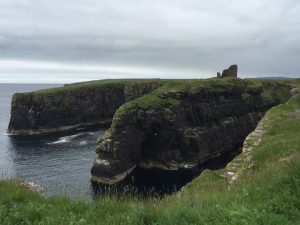 This is another one that wasn't on my list. I actually thought my day was going to be over by now but I misread when the ferry was leaving and now found myself with a lot more time on my hands. Better than the alternative though. Now I get to wind the rest of the day. The Castle of Old Wick – Castle #22. This cliff side castles are amazing. They look impossible to get to but it is more about improbable than impossible.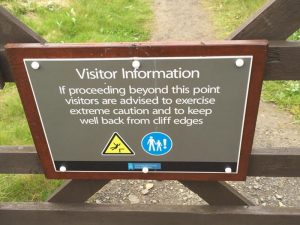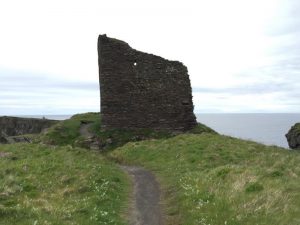 I was safe! And not only was I able to get close but I was able to get all the way inside it!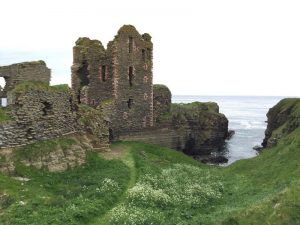 Meandering further up the road I came to another castle – Castle #23 – Castle Sinclair Girnigoe. This was a crazy ruin. Most of it was blocked off but there was still plenty to explore.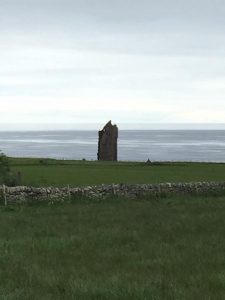 Castle #24 – Keiss Castle. I could only see this one from afar. It was only accessible via private roads. But I have a good picture from my real camera.

This one is kind of sweet and I feel like a heel for not having it on my original list. The Castle of Mey. The Queen Mother lived here. This was her private residence until she died in 2002. It was the most comfy real world lived-in place you can imagine. The people who worked there pointed out all of her photos and nick-knacks and said it really was like being at your granny's house. She had a TV and VCR on a cart and they had her Faulty Towers video tape on top. Just delightful. Oh and it is Castle #25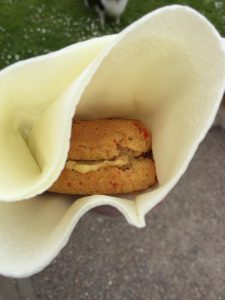 I was heading out and stopped by the snack bar for a scone as a takeaway. She asked if I wanted butter and I said I couldn't do because I was driving. She then took it in the back, cut it in half, and buttered it for me. I don't know if she was being nice or judging me as uncivilized to almost eat it without butter!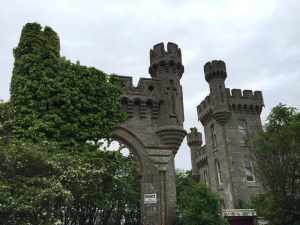 I was just a few miles from the docks, and I should have been done for the day, when this just popped up at the side of the road. My 7th castle of the day!!! Private property though. The Gatehouse of Thurso Castle – Castle #26!!!
I made it to the docks to take the ferry to Orkney without any trouble. These ferries run on very tight schedules and some only on certain days!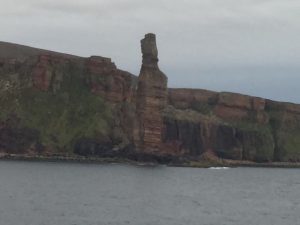 This is a very from the ferry. It's the Old Man of Hoy – what a climb! Nature #8.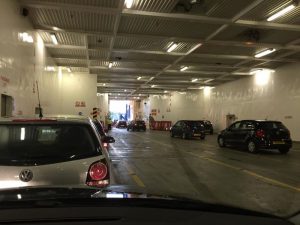 I made it to Orkney! Now to drive off the ferry and call it a night!
Scotland 2015 Totals
Days: 10
Prints: 4
Castles: 26
Churches: 6
Historic: 5
Nature: 8
Prehistoric: 4
Map Day 10: Dornoch to Orkney