Day 7 – Mont Saint Michel
Sorry for the delay in posting – I wrote all of this and then the Internet ate it and I had to write it again.  Also I am very tired – so much work to be done every night and every morning – but I will explain that in another post.
Only one thing to do today but it is a really big thing – Mont Saint Michel.  Of course we need a power breakfast so we started with the pink marshmallows that come with the room!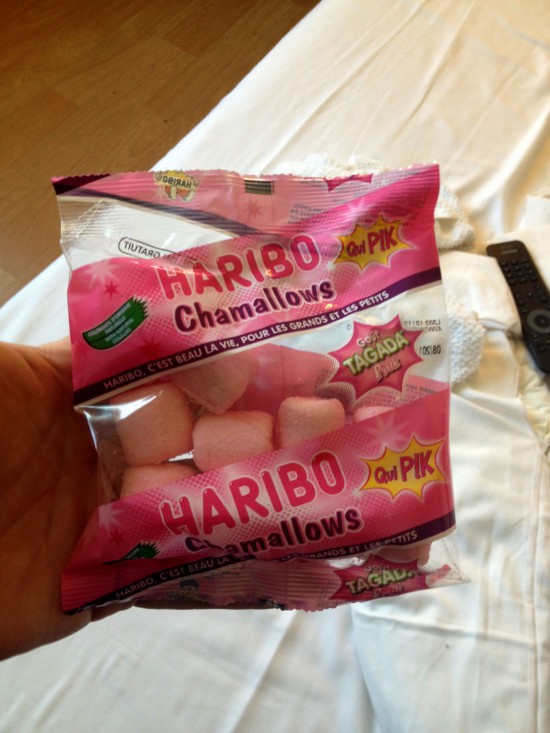 Even from several KM away you can see the island (islet) and the Abbey and city on top of it!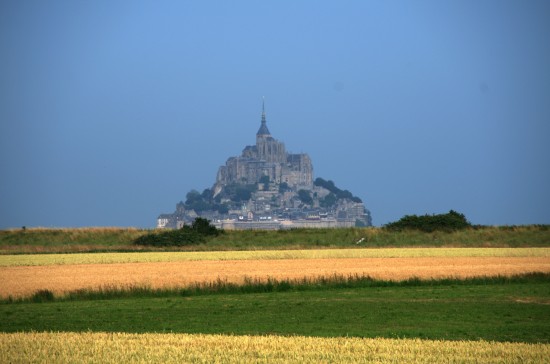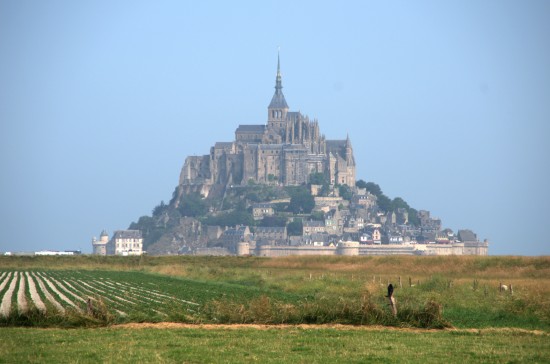 Mont Saint Michel is one of the stops of the Tour de France (which had just been through) and you could still see markings on the roads and signs on the houses.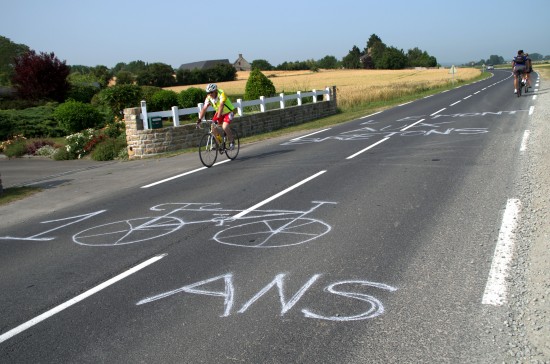 I have been to Mont Saint Michel several times and the nightmare is always the parking.  The rock (or islet) is connected to the mainland by a causeway. Before they built the causeway there was a road that would be there only when the tide was out – when the tide came in the rock would become an island.  Normally it has this long line of traffic and then you have to find the safe parking lot (the one that won't flood with the tide).  However when we got there we found out that they no longer allow cars on the causeway and force everyone to park on the mainland and either walk the 40 min or take a free 10 min shuttle.  The parking was easy and the lot was huge and it made the entire experience just pleasant. They don't allow dogs on the shuttle unless they.. well you can see the sign.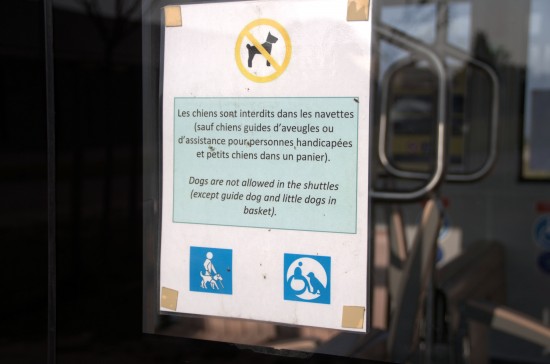 Over the years sand has built up and it isn't the island it used to be – so they are building a new (and more subtle) causeway and they are going to remove all of the sand so that it becomes a tidal island once again!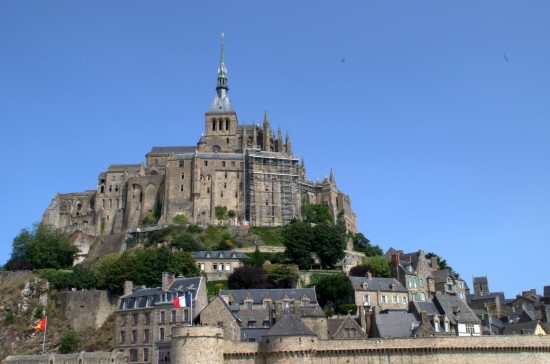 It is a fascinating city (yes it is a city about 50 people live there today) – with all sorts of interesting architectural details.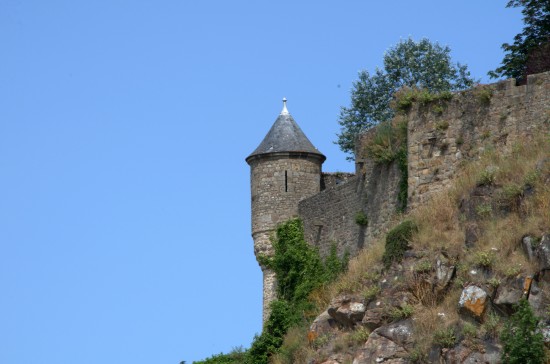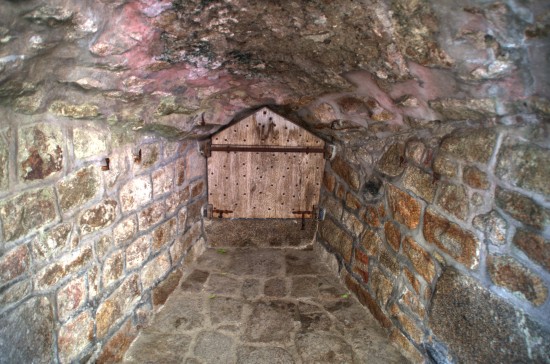 The city itself is fortified (so I count the city part as a castle) – you can see sand (not water) in the background.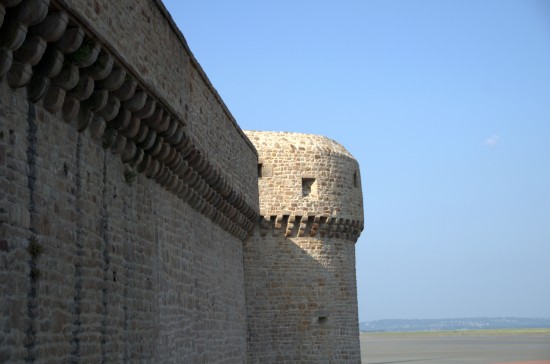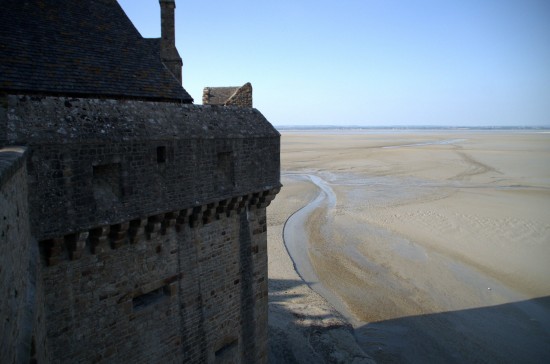 They say it is pretty dangerous to walk out on the sand – these people were on horses! The area is known for quicksand.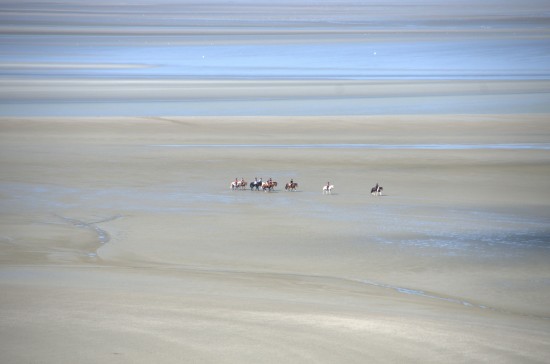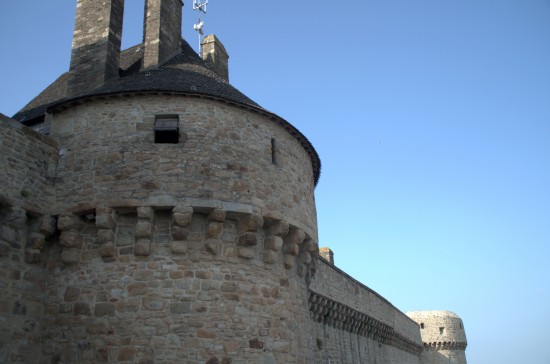 Regretfully the area is a nightmare – it is overfull of tourists and when you first arrive all you see is food and gift shops. You can buy anything!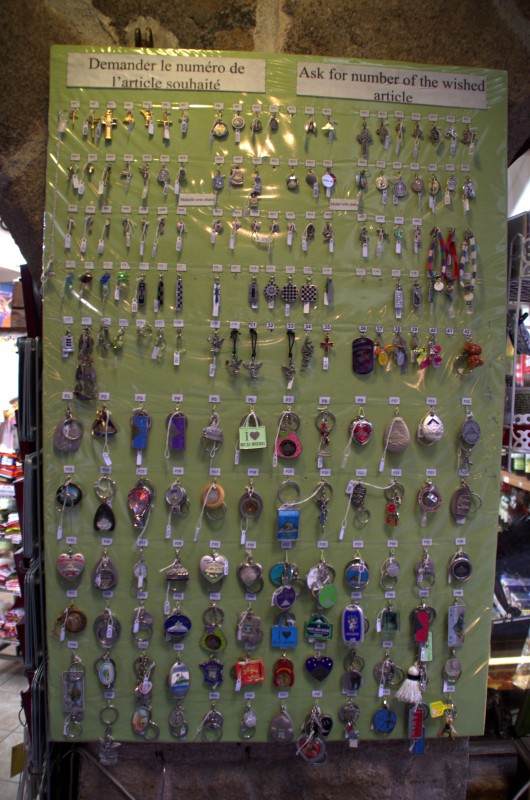 They don't have the name Jared but they do have the name Jean Baptiste! Go figure.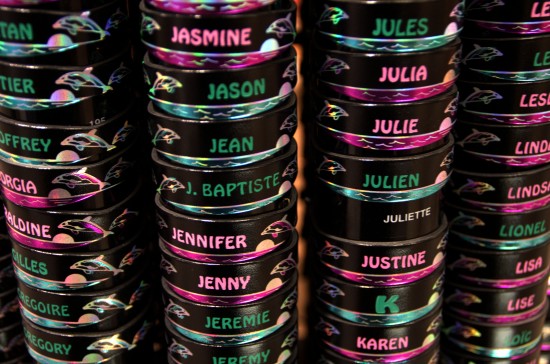 I mean they sell everything…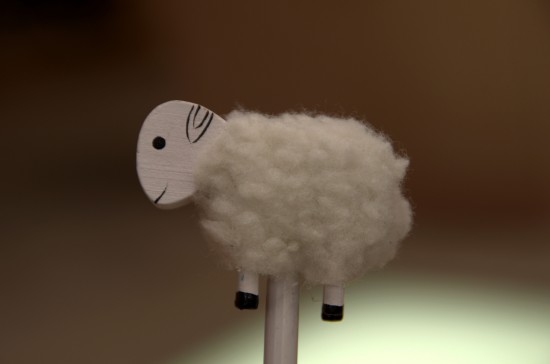 This made me think of my friend Mace.  Seriously a lot of fake (and real) weapons – from swords to guns!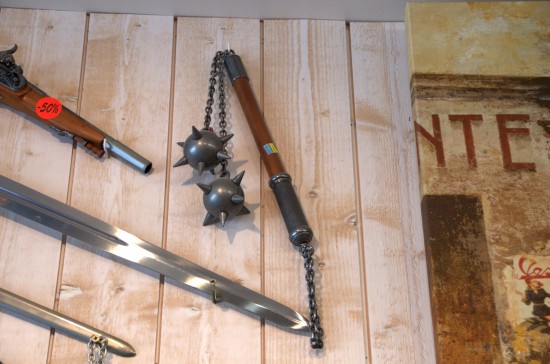 At one shop they had all of these old maps and there was one with this butterfly marking on it – and as I got closer I realized it was a real butterfly!  I took this picture and then only after realized it looked like I was taking pictures of a poster in a gift shop (which is a real no-no) when instead I was taking this detail.  Ooops!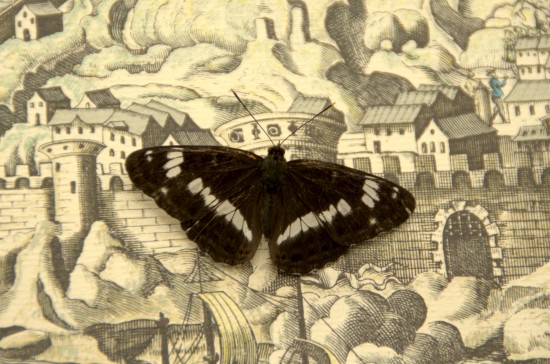 Once we got through the waves of gift shops we go to the Abbey.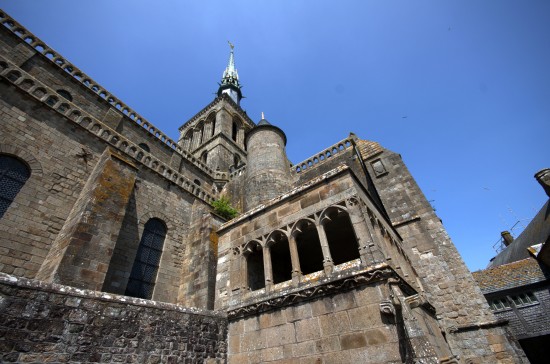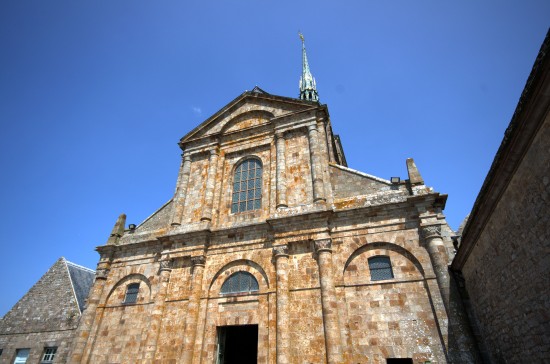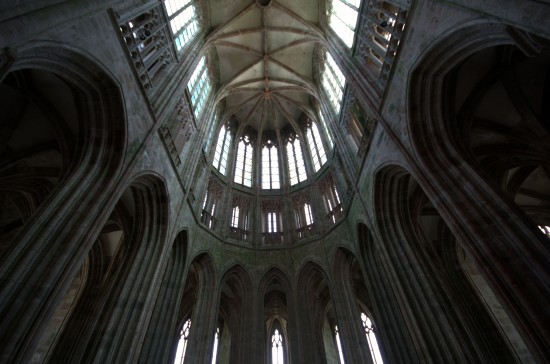 There are still Monks and Nuns who live here – (like 9).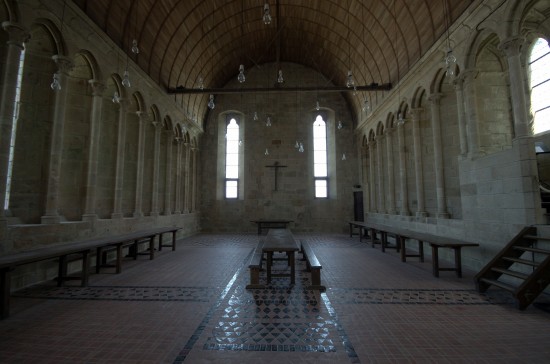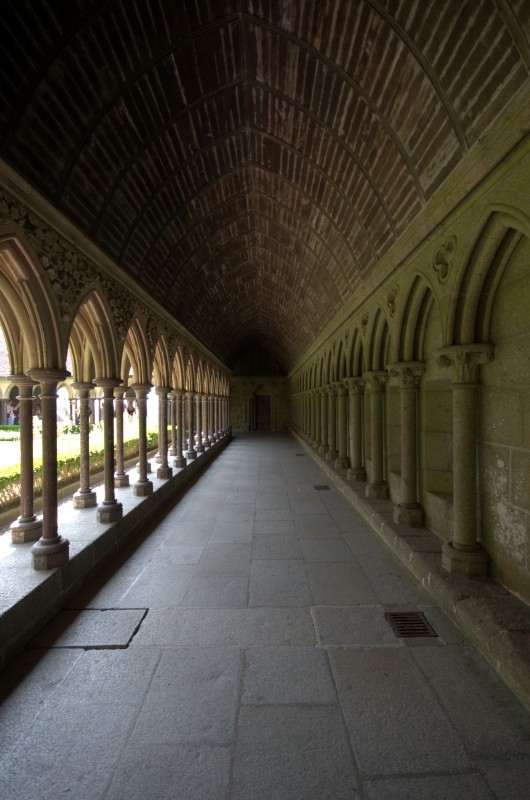 The cloisters are a favorite (like in all abbeys) and this one opening has a spectacular view – it is covered in plexi-glass though.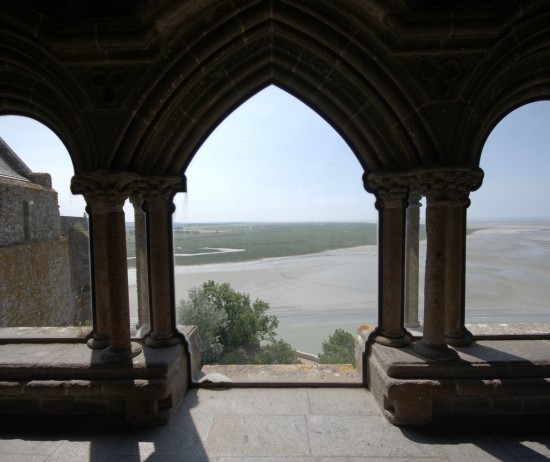 And from here you can see why! I wonder if it was open in medieval times?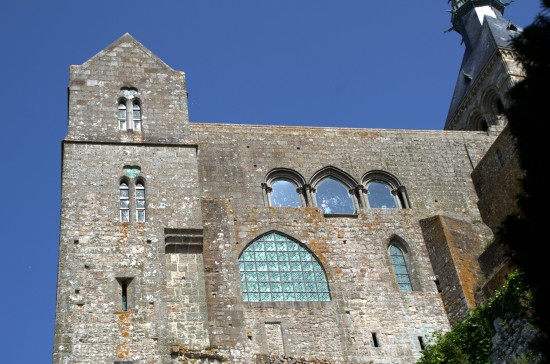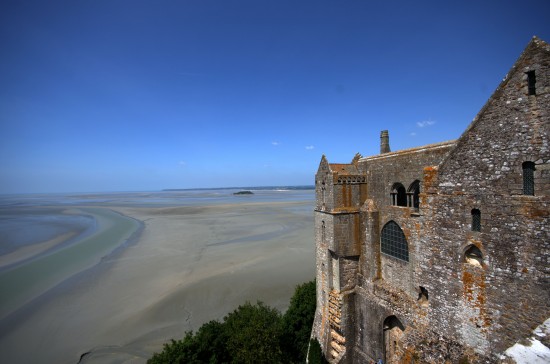 There was some workers strike going on and the Abbey was going to close earlier as a show of solidarity – we got there in time so it didn't affect us and for some reason they also didn't charge us.
Someone told us (at another castle) that a seagull at your castle was a sign of good luck.  I don't think they mean that here.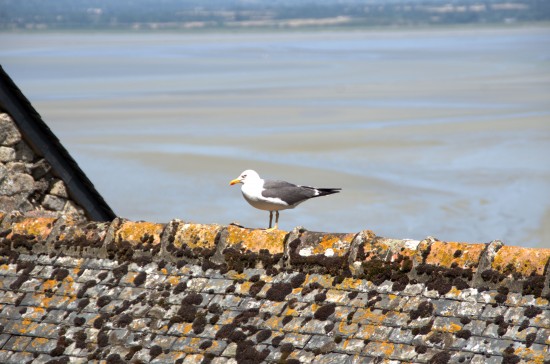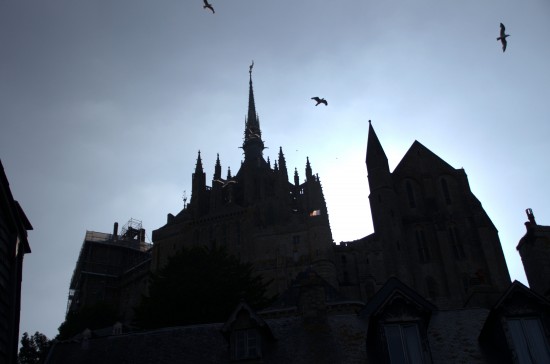 On the way to the Abbey we passed a sign for a museum. As we approached I heard some woman lament that it cost money and she didn't want to pay.  Why would you come all this way and then get cheap at the last second? The man at the counter told us there were 4 museums and that we got a discount for all 4 and then another discount because there were two of us so I said sure – what the hell.
The first museum was a 13th century house. It was small but well furnished and a nice example of what it was like to live on the island.  It really demonstrated the idea that everything is built up and up – like a tower on the side of a mountain.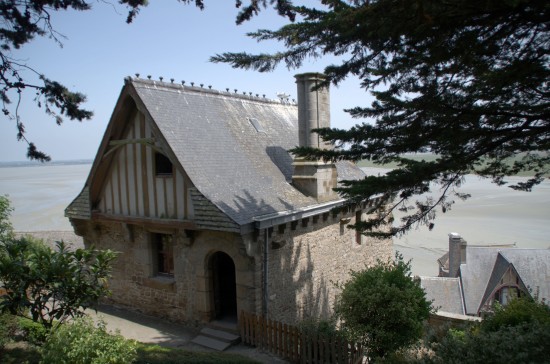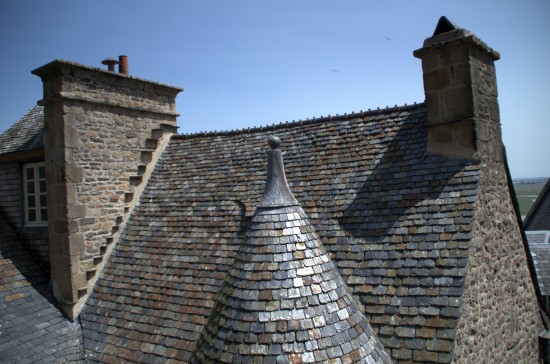 The second museum was a history museum and wax museum of torture.  Torture was right.  The history museum was only 2 rooms filled with keys, and swords, and watch parts (and whatever else they could find).  In order to give full value they had a guide come in and close both doors and talk and talk about the items in the room.  But only in French – and you couldn't escape.  When we got to the second room we slipped out and found the wax museum but it was creepy and we left.  That is when we realized that this was like Niagara Falls – all those little museums that hustle you for a dollar here and a dollar there.  And we had paid for two more!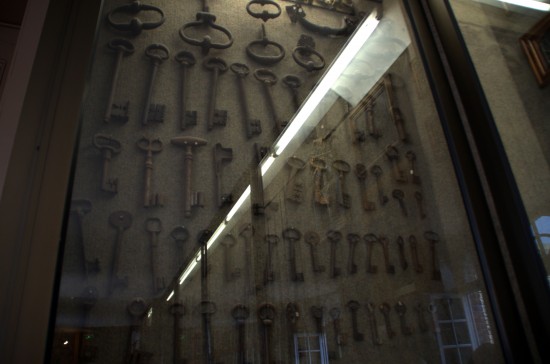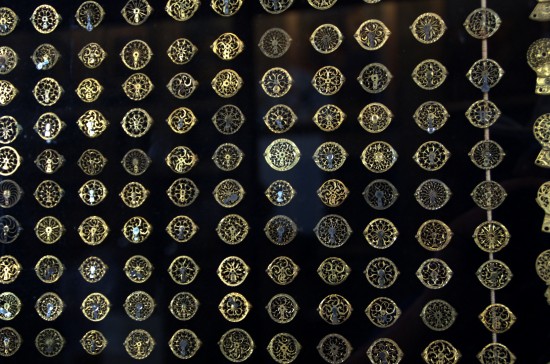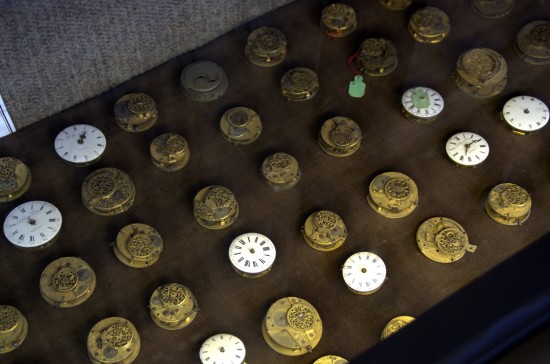 I can't accurately describe the third museum.  It was a sound and light show involving water and a 3d model of the island and it was really trippy.
The last museum was a maritime museum that contained models of ships – models – 4 floors of models!  And each museum ended… in a gift shop!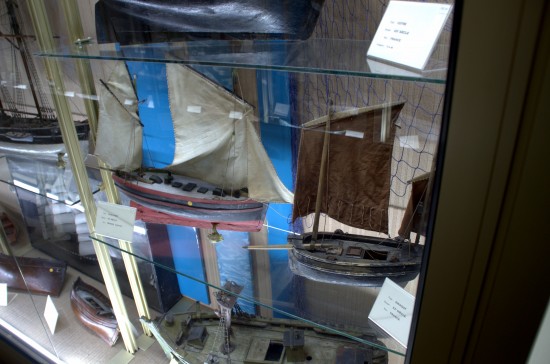 So glad those are over.
The shuttles operate until after midnight but we saw what we came to see (and some stuff we didn't mean to see).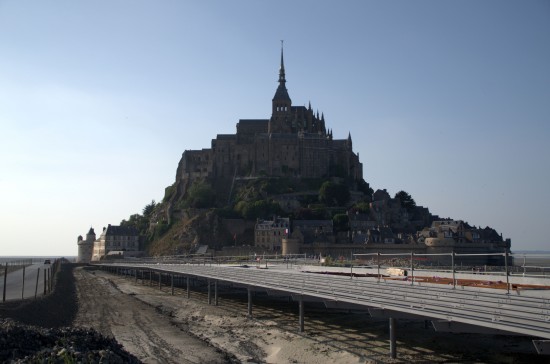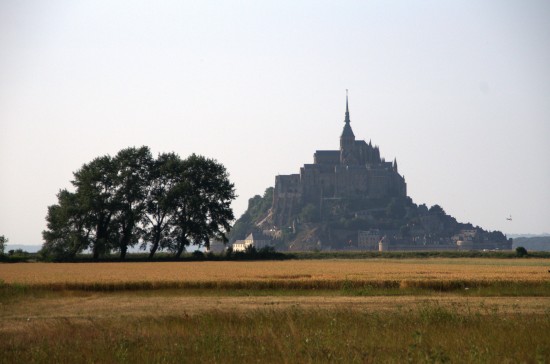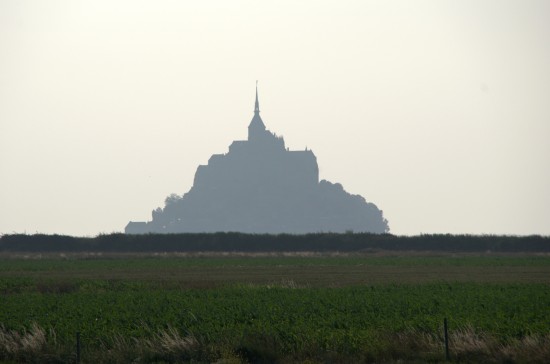 Just beautiful.
For the foodies.  We had a very nice meal on the island itself. It started with olives and a salmon spread. This was a complimentary appetizer.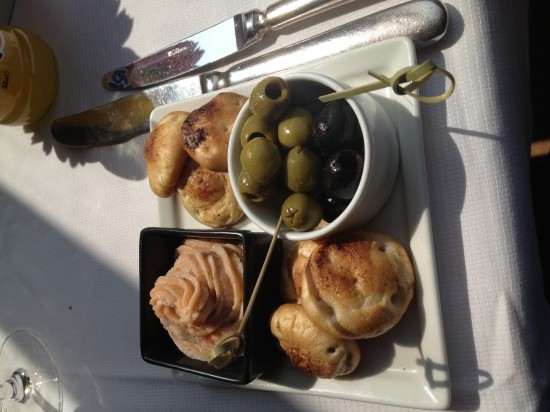 I then had the Fois which was homemade and came with this amazing fig and almond bread.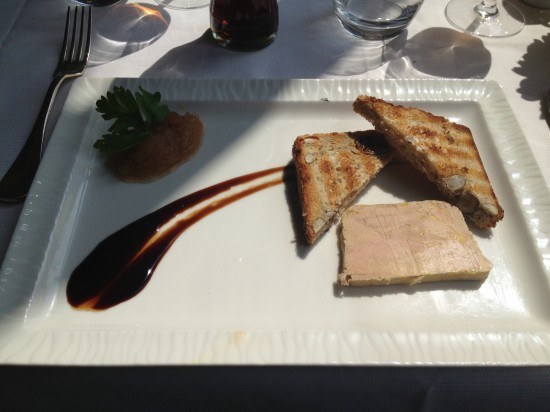 The lamb came with a sweet potato puree (which I normally wouldn't like) – it was a perfect compliment.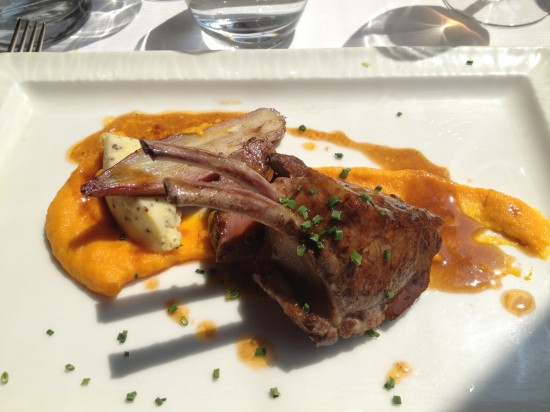 Don't think all the meals are fancy.  At the motel later we found they had an appetizer and dessert bar.
The trick is that even cheap French food is pretty gourmet!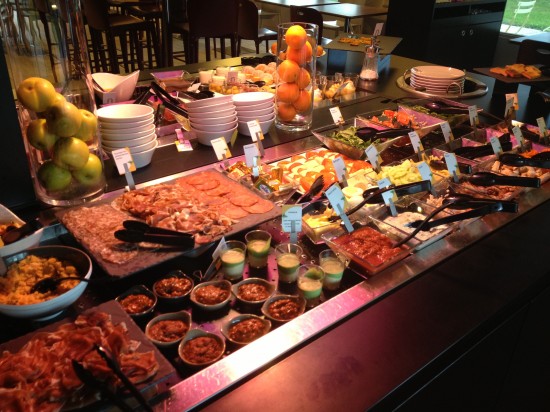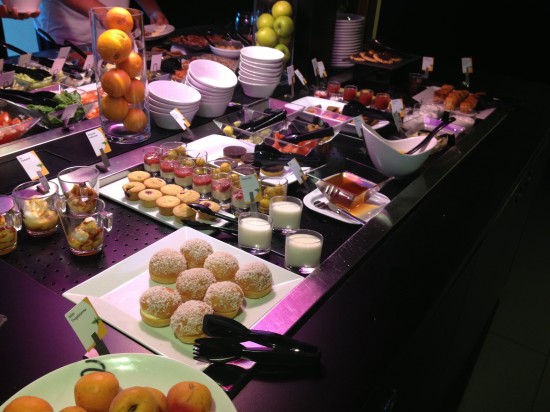 Tomorrow we head to Brittany and explore the land of King Arthur!
FYI – we count today as 1 castle (the city) and 1 cathedral (the Abbey).
Trip tally: 910KM traveled.  16  places visited (9 castles, 2 cathedrals, + 5 places of cultural significance).
As always we thank you for the support of this project be sure to Like us on Facebook & tell your friends.