France Itinerary 2013
Let the adventure begin!
"Adventures in France: From Castles to Crepes" is a documentary travel film that takes the viewer on a whirlwind adventure around France as we scour the countryside for history, culture, food, & art. During this four week expedition, we guide the viewer around numerous monuments, castles, cathedrals, places of historic and cultural significance affording the widest possible vision of France.
The following is a list of the current day to day itinerary – there may be some changes along the way – but it should be pretty accurate with things timed and dated very carefully.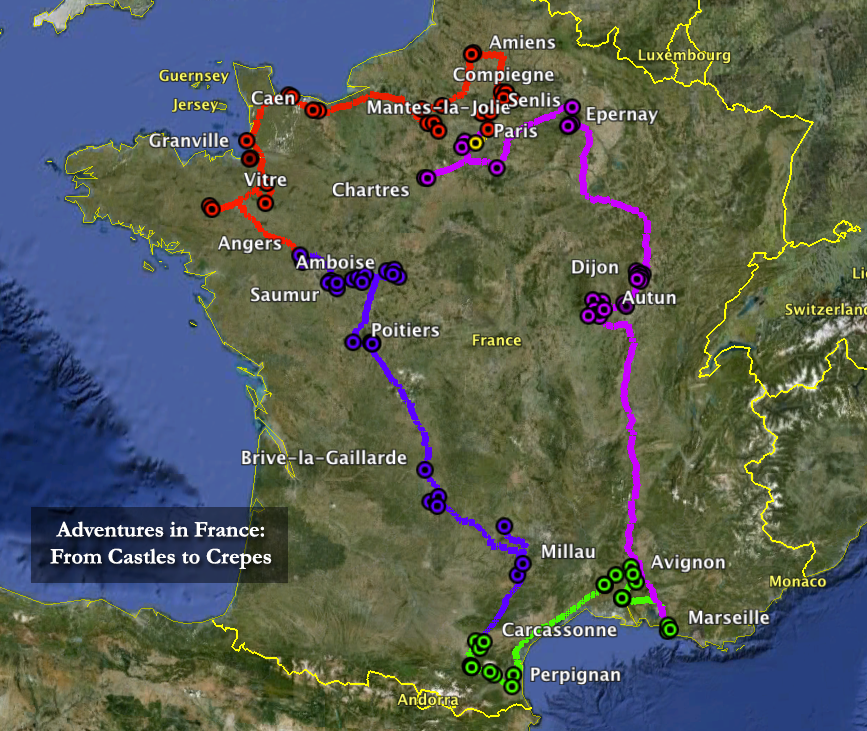 All places were previously visited during the 2009 expedition except:
* indicates new destination
** indicates visited (photographed but not filmed) in either 2000, 2002, 2004, or 2010.
The itinerary is coded as follows:


Castle

Cathedral

Ancient

Prehistoric

Art-History-Culture-Food
Part I: Northern France
| | | |
| --- | --- | --- |
| | | |
| Day 1 | | Chateau de Chantilly |
| Day 2 | | Gross Tour Du Roi |
| | | Chateau du Compiegne |
| Day 3 | | Chateau de Pierrefonds |
| Day 4 | | Amiens Cathedral |
| | | Château de Gisors |
| | | Chateau Gaillard |
| Day 5 | | Monet's Home & Garden |
| | | Château de La Roche-Guyon |
| Day 6 | | Château de Caen |
| | | Normandy Cemetery & Memorial* |
| | | Omaha Beach* |
| Day 7 | | Mont Saint Michel |
| Day 8 | | Château de Fougères** |
| | | Château de Comper* |
| | | Forêt de Paimpont* |
| | | |
Part II: The Loire & Western Central France
| | | |
| --- | --- | --- |
| | | |
| Day 9 | | Chateau d'Angers |
| | | Fontevraud Abbey** |
| | | Dolmen de Bagneux |
| Day 10 | | Château de Saumur |
| | | Château de Rochecotte |
| | | Laundry! |
| Day 11 | | Château de Langeais |
| | | Chateau de Azay-le-Rideau |
| | | Château de Villandry |
| | | Château de Pray |
| Day 12 | | Château d'Amboise* |
| | | Clos Lucé** |
| | | Château de Chenonceau |
| Day 13 | | Collegiale St-Pierre** |
| | | Château Baronnial** |
| | | Château d'Harcourt** |
| | | Château de Gouzon** |
| Day 14 | | Gouffre de Padirac** |
| | | Notre-Dame de Rocamadour |
| | | Remparts de Rocamadour |
| Day 15 | | Roquefort-sur-Soulzon** |
| | | Château de Calmont d'Olt** |
| | | |
Part III: Southern France

| | | |
| --- | --- | --- |
| | | |
| Day 16 | | Cité de Carcassonne |
| | | Chateau des Ducs de Joyeuse |
| | | Church of Saint Mary Magdalene* |
| | | Rennes-le-Chateau Castle* |
| | | Magdala Tower* |
| | | Chateau de Peyrepertuse |
| | | Chateau de Queribus |
| Day 17 | | Palace of the Kings of Majorca |
| | | Fort de Salses |
| | | Les Arenes |
| | | Maison Carré |
| | | The Tour Magne* |
| | | Pont du Gard |
| Day 18 | | The Palace of the Popes |
| | | Saint Bénezet Bridge |
| | | Arles Roman Theater |
| | | Arles Amphitheater |
| | | Thermae of Constantine* |
| | | Arles Cryptoportico* |
| Day 19 | | Chateau d'If |
| | | Swimming in the Mediterranean* |
| | | |
Part IV: Eastern Central France

| | | |
| --- | --- | --- |
| | | |
| Day 20 | | Cathédrale St-Lazare |
| | | Autun Theater** |
| | | Temple of Janus** |
| | | Porte St.-André** |
| | | Porte d'Arroux** |
| | | Château de Pommard* |
| | | Laundry |
| Day 21 | | Palais des Ducs** |
| | | Tour Philippe le Bon* |
| | | Boutique Maille* |
| | | Amora Museum* |
| | | Well of Moses** |
| | | La chouette at Notre Dame** |
| Day 22 | | Château de Etoges |
| | | Moët & Chandon* |
| | | Mercier* |
| | | Reims Cathedral** |
| | | Vaux-le-Vicomte |
| Day 23 | | Chartres Cathedral |
| | | Chateau de Malmaison |
| | | Return Car |
| | | |
Part V: Paris
| | | |
| --- | --- | --- |
| | | |
| Day 24-30 (No set order yet) | | Château de Versailles |
| | | Bastille Foundations |
| | | Chateau d'Vincennes** |
| | | The Louvre |
| | | Cimetière du Père-Lachaise |
| | | Les Invalides & Musée de l'Armée** |
| | | Les Catacombes* |
| | | Rodin Museum* |
| | | Musée d'Orsay |
| | | Musée de l'Orangerie* |
| | | Eiffel Tower |
| | | Arc de Triomphe |
| | | Moulin Rouge |
| | | Sacré-Coeur |
| | | Sainte-Chapelle* |
| | | Cathédrale Notre-Dame |
| | | Head Home! |
| | | |